Directory: Home | Audio / Video |
Hauppauge HD PVR 1212
Record your HD TV
Pricing Information
AmperorDirect Price: $239.28
Shipping Included for USA customers (We ship internationally daily)
Shipping Information
Shipping Weight: 4.00 pounds
Availability: Ships in 1 ~ 2 days
Shipping Cost: US Shipping included! Int'l Shipping calculated at checkout
In-stock items are normally shipped within 24-48 hours on business days. For special handling or overnight shipping, please call us at 281-664-1209.
Manufacturer Information
Manufacturer: Hauppauge
Item Code: HDPVR1212
Product belongs to these categories...
Product Updates by E-Mail
Fill the form below to keep updated on price changes, product specials, firmware updates, etc.
Product Information
AmperorDirect HD Recording Solution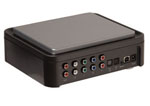 Hauppauge's HD PVR is the world's first High-Definition video recorder for making real-time H.264 compressed recordings at resolutions up to 1080i.  HD-PVR records component video (YCrCb) from cable TV and satellite set top boxes, with a built-in IR blaster to automatically change TV channels for scheduled recordings. Audio is recorded using AAC or Dolby Digital.
Results can be burn into Blu-ray or DVD-R disks
The recording format is AVCHD, which can be used to burn Blu-ray DVD disks. Two hours of HD recordings, recorded at 5 Mbits/sec, can be burnt onto a standard 4.7 GByte DVD-R or DVD-RW disk for playback on a Blu-ray DVD player.
Recording Quality
The HD PVRs amazing recording quality allows personal archival of your favorite high definition TV programs from any component video HD set top box.  The HD PVR also has standard definition composite and S-Video inputs so you can record your old home video tapes into an AVCHD format for creating Blu-ray DVD recordings.
Features
Thumbnail and list views - Browse your content by filename or by thumbnails of photos, album covers and movie cover art.
Media Library - This unique feature lets you view all your media by media type in one menu regardless of its location in folders or drives. You can view your content by categories such as genre, album, artist and date.
Search - Search by genre, title, artist, filename and partial filename.
Specifications
Hardware encoder

H.264 AVCHD video encoder
AC-3 audio encoding
Recording datarate: from 1 to 13.5 Mbits/sec (user selectable)
Recording format: up to 1080i from component video (YCrCb)
Note: the video input format determines the recorded format. For example, 1080i input records at 1080i, 720P records at 720P, etc.. Any other format conversions needs to be done with the MediaConvert program (supplied).
Size:

19.8cm wide x 17.3 cm deep x 7 cm high

Power:
System Requirements
Processor Requirements (minimum):
Graphics with 256MB memory (or greater)
Note: the playback of high definition H.264 requires a fast CPU and at least 256MB of graphics memory
Sound card
Package Includes
HD PVR high definition personal video recorder, USB
Remote Control Including batteries
IR Blaster transmitter cable
Component video cable set
Audio cable set
USB cable
5v power supply
Inputs and Outputs
Component video input and loop through output
Optical audio Input and loop through output
Left/ Right RCA audio input and loop through output
Composite video and S-Video inputs (on front panel)
Left/right audio input (on front panel)
IR Blaster output
USB2.0 High speed Device