Directory: Home | Healthcare | Handheld Pulse Oximeter |
Bluetooth Handheld Pulse Oximeter Contec CMS60CW
Pricing Information
Retail Price: $319.99
AmperorDirect Price: $199.99 (38% savings!)
Shipping Included for USA customers (We ship internationally daily)
This product includes the Adult Finger Clip Probe.
Shipping Information
Shipping Weight: 2.00 pounds
Availability: In stock! Ready to ship.
Shipping Cost: US Shipping included! Int'l Shipping calculated at checkout
In-stock items are normally shipped within 24-48 hours on business days. For special handling or overnight shipping, please call us at 281-664-1209.
Manufacturer Information
Manufacturer: Contec Medical Systems
Item Code: CMS60CW
Product belongs to these categories...
Product Updates by E-Mail
Fill the form below to keep updated on price changes, product specials, firmware updates, etc.
The Handheld Pulse Oximeter CMS60CW is a premium pulse oximeter packed with features like a 24-hour data storage, PC analysis software, rechargeable battery, Bluetooth connectivity with your computer, warning alarms, real time viewing in your computer and a variety of probes to select from among others. The CMS60CW is suitable for home use as well as doctor's offices, hospitals, oxygen bars, healthcare facilities and for exercising.
CMS60CW can transfer real time data to your computer. Just turn on Bluetooth on your computer and the CMS60CW, and you will see your pulse and blood oxygen saturation level display on your computer monitor. If your computer does not have built-in Bluetooth capability, you can use a Bluetooth dongle for your computer. This is an ideal way to capture data for sleep apnea studies or during exercise.
The handheld oximeter CMS60CW is small, lightweight and easy to use. Only a few seconds are required to obtain an accurate reading. It comes with a USB cable and analysis software. You can save the data to a PC for archive, trending analysis and report generation.
The CMS60CW comes with a rechargeable lithium battery. Each charge will last up to 24-hours of continuous operation. The lithium battery is rated for over 500 charge/recharge cycles.
CMS60CW is certified by FDA and CE.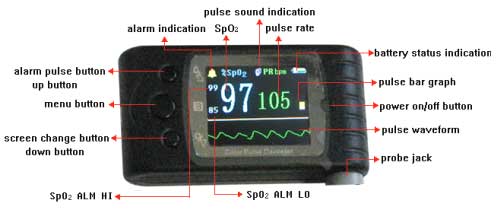 Sample computer screens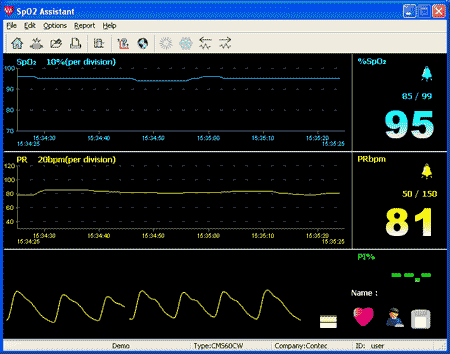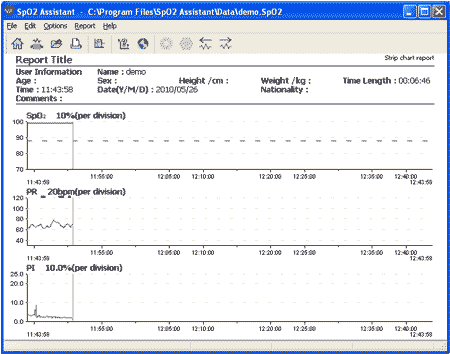 Features
Analysis software and USB cable included
Output: SpO2, pulse rate, pulse bar graph, pleth (pulse waveform)
Low battery indicator
Dual directional display
Three levels of adjustable brightness
Alarm with configurable thresholds
Pulse sound
Transmission of real-time data to computer
Optional external probes available
Specifications
Operating System: Windows
SpO2:

Accuracy: 70-100%: ±2%;
Range: 70-100%
Resolution: 1%

Pulse rate:

Accuracy: <100bpm: ±2; ≥100bpm: ±2%
Range: 30-250bpm
Resolution: 1bpm

Power: 3.7v rechargeable lithium battery with at least 500 charge/recharge cycles
Display: 1.8" 65K Color TFT display with 160*128 resolution
Dimensions: 87 x 45 x 22mm
Weight: ~175g