IPEVO Skype WiFi Phone SO-20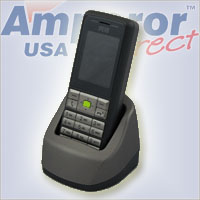 Pricing Information
AmperorDirect Price: $163.99
Shipping Included for USA customers (We ship internationally daily)
Shipping Information
Shipping Weight: 2.00 pounds
Availability: In Stock, Ready to Ship!
Shipping Cost: US Shipping included! Int'l Shipping calculated at checkout
In-stock items are normally shipped within 24-48 hours on business days. For special handling or overnight shipping, please call us at 281-664-1209.
Manufacturer Information
Manufacturer: Ipevo
Item Code: SO-20
Product belongs to these categories...
Product Updates by E-Mail
Fill the form below to keep updated on price changes, product specials, firmware updates, etc.
This product is no longer available.
Ipevo SO-20 Wifi Skype Phone is one of the latest entry in this market. It comes with a charging cradle and universal power adapter enabling you to take the WiFi phone worldwide. Its quality and features are among the top of its class. Ipevo SO-20 WiFi Skype phone has received many rave reviews.
Product Information
Wireless - Skype with no strings attached
The Wi-Fi Phone for Skype operates via a Wi-Fi wireless Internet connection. This gives you the freedom to make Skype calls anywhere in the world, when you connect to a secure or open Wi-Fi network (that does not require browser-based login or authentication).
No computers required
The Wi-Fi phone for Skype has an in-built processor that has been pre-loaded with Skype software. Therefore, you have access to all the features and functions of Skype that was provided by your computer previously. The standalone handset is a much simpler and comfortable way to make and receive Skype calls, without having to sacrifice the benefits of Skype's free and low-cost services.
Fully integrated with Skype
From locating contacts, making calls to reviewing call history, all the great features of Skype are right at your fingertips. The Wi-Fi Phone is Skype-certified, so the experience of using Skype on the Wi-Fi phone is guaranteed to be every bit as good, if not better, than on your computer.
Wireless Network Security
The SO-20 supports Wired Equivalent Privacy (WEP). The WEP the SO-20 is designed to provide the same level of security as that of a wired LAN.
Want to know more, see our Ipevo SO-20 WiFi Phone Review and also the Review by Nafcom
Specifications
Package Includes
IPEVO Wi-Fi Phone for Skype
Power adaptor / travel charger (100-240V 50-60Hz)
Charging cradle
Rechargeable battery
Quick user guide

Control Interface
Selection Keys
Arrow Keys
Center Key
Call Key
Hang Up key/ Power key
1 and commonly used signs
2-9 and alphabet
0, space, plus(+)
Text input mode (abc/ABC/123)
Signs and symbols
Volume key
Headset jack socket

Audio Performance
Voice codecs: G711 and G729AB
Voice sampling rate: 8KHz
Communication : Full Duplex

Wireless Features
IEEE 802.11b/g
Encryption Protocols: WEP, WPA/WPA2-PSK
Network Protocols: DHCP, Static IP

Other Hardware Descriptions
1.8" 128 x 160 (65k) TFT LCD
Keypad with backlight supported
Talking time: Approx. 4hr & Standby time: 30hr by Li-ion 900mAh battery (depends on networking status)
IEEE 802.11b/g WLAN and embedded 2.4GHz antenna support
2.5mm headset jack socket (headset not included)
AC power adaptor: 100-240V 50-60Hz
DC voltage output: 5V

Call Features
Skype to Skype Calls
Skype In/Out calls
Skype voice mail
Call Waiting
Conference Call (Guest Only)
Voice Mail
Call History
Phone Features
Contact list
Online status
Search for users on Skype index
Add/remove user from contact list
Quick Filter
Skype Credit
Profiles
RF and Battery level indication
Application Features
Time and date display
Skype credit display
Management Features
Firmware upgrade

PC client upgrade software through USB port
Upgrade Skype software through internet (Phase2)
Regulation Compliance
Warranty
Compatibility
| | | | | |
| --- | --- | --- | --- | --- |
| | | | | |
| WiFi | Skype | | | |