Heart Rate Monitor Amperor OCT288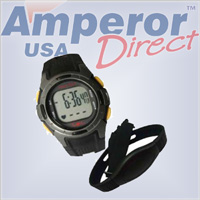 Pricing Information
Retail Price: $49.99
AmperorDirect Price: $16.88 (66% savings!)
Shipping Included for USA customers (We ship internationally daily)
Final Price. Only 18 left in stock.
Shipping Information
Shipping Weight: 1.00 pounds
Availability: In Stock, Ready to Ship
Shipping Cost: US Shipping included! Int'l Shipping calculated at checkout
In-stock items are normally shipped within 24-48 hours on business days. For special handling or overnight shipping, please call us at 281-664-1209.
Manufacturer Information
Manufacturer: Amperor
Item Code: OCT288
Product belongs to these categories...
Product Updates by E-Mail
Fill the form below to keep updated on price changes, product specials, firmware updates, etc.
OCT288 Heart Rate Monitor is a quality product with all the basic capabilities to monitor your heart rate during your daily exercise routines. It does not have all the bells and whistles, however the price is right! I have used the heart rate monitor for a couple of months now and this is what I would call a good solid product.
Features
Cordless transmission between watch and chest belt
Time functions: Hour, minute and second
Selectable 12/24 hour format
Stopwatch function
Daily alarm and chime
Alarm when heart rate goes beyond preset limit
Power saving mode
Water resistance (watch) - up to 30 meters
CR2032 3V lithium batteries (one for the watch and one for the belt)