Directory: Home | Audio / Video |
Digitech HDX 1000 Networked Media Tank (NMT) Player
Pricing Information
Retail Price: $259.00
AmperorDirect Price: $208.88 (19% savings!)
Shipping Included for USA customers (We ship internationally daily)
Shipping Information
Shipping Weight: 6.00 pounds
Availability: In-Stock, Ready to Ship
Shipping Cost: US Shipping included! Int'l Shipping calculated at checkout
In-stock items are normally shipped within 24-48 hours on business days. For special handling or overnight shipping, please call us at 281-664-1209.
Product Updates by E-Mail
Fill the form below to keep updated on price changes, product specials, firmware updates, etc.
This product is no longer available.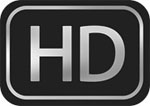 Digitech HDX 1000 Networked Media Tank (NMT) Player, the revolutional Networked Media Player, is the ultimate solution to stream and playback the digital media contents, such as your movies, musics, pictures and documents stored in the computer onto your big screen TV.
Add an optional internal SATA hard drive to provide network attached storage; add a WiFi USB adapter for 802.11N (600 Mbps) wireless network connection.
To help our customers, we have developed a new HDX 1000 user guide to supplement the one provided by the manufacturer.
Product Information
High Definition Playback
The HDX 1000's gold plated HDMI v1.3a connector enables the display of 1080p contents. The long compatibility list includes playing .mkv and .mov formated media files and H.264 video codec.
User Friendly Interface
The built-in Networked Media Tank (NMT) software developed by Syabas offers a intuitional operation interface. Users can use the remote control unit to activate all the file searching and playback finctions on the TV screen.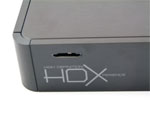 Dedicated Processing Power
The built-in Sigma SMP8635 processor is the most powerful dedicated multimedia engine on the market. It helps the HDX 1000 to deliver a smooth high definition content viewing experience.
Web Services Portal
The NMT software also provides a browsing protal for users to browse many popular video and picture sharing websites such as Youtube and Flickr without turning on the PC. The software also comes with a Bittorrent downloader. You can now use the HDX 1000 to do Bittorrent downloading and leave your computer to rest at night.
Plenty of the Input / Output Options
On the back of the HDX 1000, users can see various input / output options. No matter whether you have a digital or an analog TV, the HDX 1000 has a way to output signal to your TV. Besides, the HDX 1000 is equiped with a card reader on the front panel for easy accessing purpose. Users can plug-in the SD memory card from the digital camera and display the pictures on the big screen TV.
Setup Diagram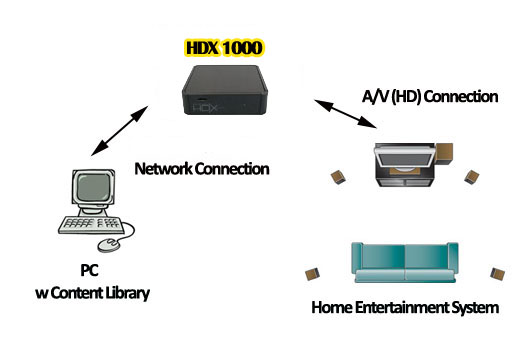 Call us at 281-664-1209 if you need any detailed explanation.
Specifications
CASE
* Solid Aluminum Alloy Case
* SDHC, MS and MMC Card Reader
* Compatible with 3.5" and 2.5" SATA HDD
* Hardware Power ON/OFF Switch
* Supports Vertical or horizontal placement
CPU

* Sigma Designs SMP8635 Rev. C
Memory
* DDR DRAM : 64-bit 512Mb
* External NOR Flash : 16-bit 256Mbit
Audio/Video outputs (gold-plated connectors)
* HDMI v1.3a (up to 1080p)
* Component Video (up to 1080p)
* Composite Video
* Stereo Analog Audio
* S/PDIF Coaxial Digital Audio
* Optical Digital Audio
Hardware Connectivity

* 2x USB 2.0 host
* 1x USB 2.0 Slave
* Serial ATA (SATA)
* Ethernet 10/100
Compatibility
Video containers:
MPEG1/2/4 Elementary (M1V, M2V, M4V)
MPEG1/2 PS (M2P, MPG)
MPEG2 Transport Stream (TS, TP, TRP, M2T, M2TS, MTS)
VOB
AVI, ASF, WMV
Matroska (MKV)
MOV (H.264), MP4, RMP4

Video codecs:
XVID SD/HD
MPEG-1
MPEG-2
MP@HL
MPEG-4.2
ASP@L5, 720p, 1-point GMC
WMV9
MP@HL
H.264
BP@L3
MP@L4.0
HP@L4.0
HP@L4.1
VC-1
MP@HL
AP@L3

Audio containers:

AAC, M4A
MPEG audio (MP1, MP2, MP3, MPA)
WAV
WMA

Audio codecs:
WMA, WMA Pro
AAC
MP1, MP2, MP3
LPCM 5.1/7.1
FLAC
AC3 (supported via pass through to decoder)

Picture formats :
JPEG, BMP, PNG, GIF

DVD RIP Format:
ISO, IFO

Subtitle formats :
SRT, SMI, SUB, SSA
The Most Comprehensive HDX 1000 Product Review on Internet
Please go to the blog: Am I the Expert Yet, to read our detailed HDX 1000 product review. The review has seven parts:
HDX 1000 Video Guides:
Part 1: Quick Installtion Guide
Part 2: Firmware Update
Cannot decide if you want a Popcornhour A-110 or a HDX 1000? Here are some detailed comparison reviews:
Install Movie Jukebox for Your HDX 1000: