Directory: Home | Audio / Video |
BOCS RS08-01 Universal Remote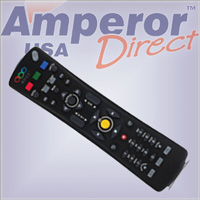 Pricing Information
AmperorDirect Price: $53.48
Shipping Included for USA customers (We ship internationally daily)
Shipping Information
Shipping Weight: 1.00 pounds
Availability: In Stock, Ready to Ship!
Shipping Cost: US Shipping included! Int'l Shipping calculated at checkout
In-stock items are normally shipped within 24-48 hours on business days. For special handling or overnight shipping, please call us at 281-664-1209.
Manufacturer Information
Manufacturer: BOCS
Item Code: RS08-01
Product belongs to these categories...
Product Updates by E-Mail
Fill the form below to keep updated on price changes, product specials, firmware updates, etc.
BOCS RS08-01 Universal Remote uses the RF (radio frequency) technology which enables you to control BOCS and other electronics from practically anywhere in your home. You are in control. Just imagine that you can turn your child's TV off by pushing a few buttons.
Having a BOCS wireless remote in every room makes enjoying movies, your desktop's audio files, or any content from your home entertainment center quick and easy. Buy two or more and get a discount with a bulk pack.
In addition to over 2000 pre-programmed device codes, if you need to control something unique, this remote (with upgrade) can actually learn the codes to control your new device.
Features
Wireless and infrared remote communicates with the Xtender unit from anywhere in your home
Features versatility that connects you with the content you want with every room there is a TV
Pre-programmed to work with over 2000 devices such as TVs, DVRs, DVD players etc
Sleek design for easy grip handling