IPEVO Skype Phone FR-33.1 (FREE.1)
A Stylish Phone with High Voice Quality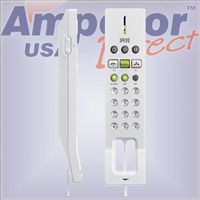 Pricing Information
AmperorDirect Price: $34.88
Shipping Included for USA customers (We ship internationally daily)
Shipping Information
Shipping Weight: 1.50 pounds
Availability: In-Stock, Ready to Ship
Shipping Cost: US Shipping included! Int'l Shipping calculated at checkout
In-stock items are normally shipped within 24-48 hours on business days. For special handling or overnight shipping, please call us at 281-664-1209.
Manufacturer Information
Manufacturer: IPEVO
Item Code: FREE1
Product belongs to these categories...
Product Updates by E-Mail
Fill the form below to keep updated on price changes, product specials, firmware updates, etc.
This product is no longer available.
IPEVO FR-33.1 (FREE.1) is a stylish Skype phone with crystal clear voice quality. It has won an award for its superor design. The FR-33.1 provides the superior calling quality of Skype, without the hassle of hunting and pecking for numbers on your keyboard. It's now intuitive to dial, receive calls, hang up, all these things that make a phone a phone. But that's not all - FR-33.1 also acts as the shortcut to your favorite Skype functions: your friend, your mom's voicemail, your calling history - it's now all a scroll away.
Product Information
Description
IPEVO FREE.1 is a stylish Skype USB phone. It has won IF product design award and redhot design award in 2006. The phone is built-in with 16KHz audio sampling rate capability which complies to Skype's high voice handling standard, and can generate supreme voice quality for Skype conversation. Here are some product highlights:
Windows and MAC compatible
Integrated Skype interface
Excellent voice quality with echo cancellation
Programmable buttons to enable customization
Light weight and ergonomic design
Available in black and white
Award Winning Design
Since its Launch, the FREE.1's slim and compact design has received numerous international design awards and recognitions, including 2006 iF Product Design Awards, 2006 Reddot Design Award, 2006 Good Design Award (G-mark), Honorable Mention in I.D. Magazine's 52nd Annual Design Review, as well as Engadget's Pick for Peripheral of the Year for the 2005 Engadget Awards.
Simple to Use
The functions and buttons on the FREE.1 are tailor-made for the Skype experience, which takes a lot of the guesswork out of placing calls via a computer. A "s" key activates the Skype window on your desktop, a toggle "buddy jog" to let you effortlessly scroll through your contact list. Or simply press the "+" key to initiate a SkypeOut call, and use the number pad to dial out just like a regular telephone.
Fantastic Sound Quality
Engineered and optimized for Skype, FREE.1 delivers exceptional call quality with 16K sampling rate for Skype-to-Skype calls, and 8K sampling rate for calls to landlines. The unique "hollow" mouthpiece design minimizes the annoying "echo" effect..
Recording Software
With the built-in recording software, FREE.1 is a high quality voice recorder that allows you to store Skype meeting notes conversations onto your computer (in WAV format).
Online Reviews & News
Bill Campbell @ SkypeJournal
"... 'Free.1' has a 16 KHz sampling rate! Many USB phones do not have that because the Skype's high quality 16 KHz sampling rate is not an industry standard. IPEVO had to design their own chip set. Expensive; but a smart move..."
Lordpercy @ Lordpercy.com
"A lot of design effort has gone into the IPEVO Free-1, more than you'd think. The handset is sculpted to fit the face of the user including a 12 degree angle which is the optimum for ensuring the audio pickup does not interact with the speaker."
"Audio quality is first class and possible the best calls we've made on Skype to date, it's easily comparable to the best headsets with their earphone and boom arrangement but without the need to look like Madonna while making a call. "
Scott Clark @ Everything USB
"Fed behind the Free-1's displaced mouthpiece that's said to reduce echo is an 8-foot USB cable for connecting to the computer, leaving ample room for pacing about while making a call. We found the hole in between the handset and mouthpiece also makes a nice place to feed the plug through after wrapping the cable around the phone a couple times, perfect for tossing it into a bag. "
Mark @ 248am
"It looks great, the sound quality is great and the phone feels much more expensive then it actually costs."
Al Iverson @ tech+gadget
"...for casual calling, a headset is annoying. It uses up your headset port and microphone port. Not a big deal with the microphone, but for the headset, it blocks your speakers, making it tough to listen to iTunes or some fm while you're waiting for a phone call. That's where the IPEVO Free-1 USB Handset for Skype comes in."
David Walker @ eHomeUpgrade
"IPEVO is finally showing Mac users VOIP Skype love by offering Skype phone that is Mac compatible..."
Dan Nystedt @ IDG News Service @ Macworld
"The company, which launched its Free-1 phones in September, has already sold over 20,000 handsets, said Robert Lo, chief operating officer at Ipevo."
How to Tell an Authentic IPEVO Free.1 from Knockoffs
There are already hundreds of IPEVO Free.1 knockoffs flooding the market due to its success and design. The following article aims to list the performance differences and help you pick a real IPEVO Free.1.
Differences in the Look:
Along with the IPEVO FREE.1, I put two knockoffs I found on eBay in the picture. For convenience sake, I'll call the left one as "white knockoff", and the right one as "black knockoff".
It is easy to tell the difference between IPEVO FREE.1 and the black knockoff. The most obvious thing is that the three gray customizable function buttons seen on IPEVO FREE.1 have been taken away. An "USB phone" text label has been placed at the location. You can also see that the plastic package of the black knockoff is kind of weak. The plastic has already been pushed and damaged when it arrived in the USPS priority mail bubble envolope.
The white knockoff looks almost identical to IPEVO FREE.1. The good thing is that there are still several small things to look for.
IPEVO's logo is not shown on the white knockoff.
IPEVO FREE.1 has the number keys designed as transparent and the white knockoff has them in grey.
The power-on led on IPEVO FREE.1 is shaped in square, but it is shaped in circuit on white knockoff.
The up-down navigation button is colored in green on IPEVO FREE.1, but is colored in white on white knockoff.
With the information above, you should be able to pick the authentic IPEVO FREE.1 from the fakes.
Performance Comparison:
The ability to do 16KHz audio sampling rate has enabled IPEVO FREE.1 to provide a crystal clear Skype conversation. The audio quality of black and white knockoff is not anywhere closed to what IPEVO FREE.1 can offer. Using both knockoffs, I can hear background "white noise" whenever one of conversation participant (either the caller or the called part) is speaking.
Buttons
The buttons work flawlessly on the IPEVO FREE.1, with the included software. There are three customizable buttons which allow users to pick from the following functions: Start Chat, Redial, Hold, Ringer Style Setting, Change Status, Play a Voice Mail and Send a Voice Mail. I find it very convenient to have the flexibility. IPEVO FREE.1 also provides a "+" button for users to conduct SkypeOut calls.
For the black knockoff, all the basic keypads, such as number keys and call/hang-off buttons, are designed on the phone and work with the driver installed. However, the number 2 button has already decided to go bad from the moment I pull it out from the box. It looks to me like either there are some quality control issues at the manufacturer or the button is damaged in the transportation because of the weak package. Besides, the default key pressed confirmation tone is designed with extremely high pitch sound. It makes my ears hurt when I first use it.
For the white knockoff, the keypad layout and number are identical to IPEVO FREE.1. However, even with the driver installed, none of the button works. I need to do everything through my computer keyboard and use the white knock off just as an external speaker and microphone.
IPEVO FREE.1 comes with a cradle. You can stand up the USB phone for better organization and better look. Neither of the two knockoffs come with a cradle. Besides, IPEVO FREE.1's installation CD is in regular size. Two knockoffs' are in mini CD size, which cannot be used in Apple Mac computers.
Certifications
IPEVO FREE.1 is a Skype certified device. From the label at the back of the phone, we also learn that it is CE and FCC certified. The white and the black knockoff are not Skype certified. Although both knockoffs include CE and FCC marks on the label, none of them specify the product name or the model name. There is no way for me to confirm if the marks are real or not.
IPEVO FREE.1 is Mac compatible. On the retail box, it shows IPEVO FREE.1 can work in Mac OSX system. The two knockoffs are not Mac compatible.
Users can go download the latest driver update at the IPEVO website. It is very important because we all know how frequently Skype rolls out new revision. The link included in the white knockoff's application actually points to Skype.com. I cannot find any manufacturer or software update link in black knockoff's program.
Conclusions:
IPEVO FREE.1 takes the lead at every aspect I tested. The only better "specification" of the knockoffs is the price. The IPEVO FREE.1 priced in $30ish while the knockoffs are in the $20ish (including the shipping charge). However, considering the functions and the quality degraded in the knockoffs, the tradeoff is not worth it.
If you need a more cost effective solution, there is the AU-100 (costs under $20) and P1K (costs in mid $20) to think about. They both provide better voice quality with more functions than the imitation brands. The most important thing is that these two phones are on the market for a long time now and are proven as great solutions by numerous users. You can find support / updates on these two phones easily on the manufacturer website or other retailers on Internet.
This Article was originally posted at here.