Yealink W1DL Cordless Skype Phone
100+ Foot Range that works on both Macs and PCs!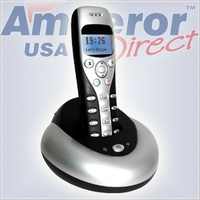 Pricing Information
Retail Price: $99.95
AmperorDirect Price: $59.88 (40% savings!)
Shipping Included for USA customers (We ship internationally daily)
Shipping Information
Shipping Weight: 2.00 pounds
Availability: In stock. Ready to ship.
Shipping Cost: US Shipping included! Int'l Shipping calculated at checkout
In-stock items are normally shipped within 24-48 hours on business days. For special handling or overnight shipping, please call us at 281-664-1209.
Manufacturer Information
Manufacturer: Yealink
Item Code: P6018-C05C2
Product belongs to these categories...
Product Updates by E-Mail
Fill the form below to keep updated on price changes, product specials, firmware updates, etc.
The Yealink W1DL USB Cordless Skype Phone is an excellent option if you want to roam freely in your house. It has an outstanding range of over 100 feet. It is chic and fashionable. With W1DL Skype phone, you can scroll through your Skype contacts and call with a button. The base station is also a speaker phone.
Product Information
This premium cordless solution is optimized for Skype. The phone is comprised of one handset and a USB base/charger.
The last available version of SkypeMate 6.0 (Yealink device driver) was released in early 2013 and version 5.0 was released in late 2011. You can find them by search on the internet or contacting us. Since Skype has made significantly changes in the past years, you may need to use older version of Skype for the device to work.
Description
A second generation cordless phone for the Skype market, the Yealink W1DL offers 100+ feet range! The W1DL offers PC users the freedom to roam on a Skype call. This phone includes echo cancellation, noise reduction, and and LCD backlit display.
Features
yealink Phone has160-foot(50-meter) radio range enabling you to talk away from computer.
Fashion look and human design.
Large graphic LCD and blue back-light.
Contact list and calling history in any language easily reviewed on handset.
Caller ID function.
With speakerphone built in base, ideal device for conference call.
Base works as charging station for handset.
Noise reduction and digital echo cancellation.
Both base and handset ringing for all incoming calls.
Auto-selected RF channel for improved voice quality.
Hardware
Radio range: 50 meters (160ft)
Standby duration: >100 hours
Talking duration: >10 hours
Battery: 460mAh(Li-battery)
USB charged, no external power required.
Driver and sound card built-in
Interface
One base with USB interface to PC
System Requirements
Windows (2000, XP, Vista)
400 MHz processor and free USB1.1 or USB2.0 port
128 MB RAM and 15 MB free disk space
Internet Connection ( any broadband: cable, ADSL.)
Compatibility
Note
Yealink has published updated drivers for Skype and Windows operating systems only. If you are using MAC or other VOIP services, this phone may not work for you.
Recent support contacts have indicated that Yealink products are not fully compatible with Intel processor-based Mac systems, and sometimes will not behave properly with some G5 systems. We are working with Yealink to try and track down the cause of the problems so they may fix them, so keep checking back for more updates.
| | | | | |
| --- | --- | --- | --- | --- |
| | | | | |
| Windows | Mac OS X | Skype | Yahoo! | |
| | | | | |
| | | | | |
| VoIP Buster | MSN Messenger | Google Talk | | |