Directory: Home | Healthcare | Finger Pulse Oximeter |
Finger Pulse Oximeter Choice MD300C310
Free Carrying Pouch with Purchase (while supply lasts)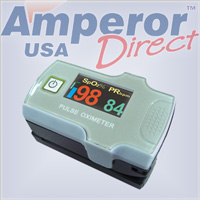 Pricing Information
Retail Price: $347.00
AmperorDirect Price: $149.24 (57% savings!)
Shipping Included for USA customers (We ship internationally daily)
MD300C310 has been replaced with a newer model MD300CF3.
Shipping Information
Shipping Weight: 1.00 pounds
Availability: In Stock, Ready to Ship!
Shipping Cost: US Shipping included! Int'l Shipping calculated at checkout
In-stock items are normally shipped within 24-48 hours on business days. For special handling or overnight shipping, please call us at 281-664-1209.
Manufacturer Information
Manufacturer: Choice
Item Code: MD300C310-CASE
Product belongs to these categories...
Product Updates by E-Mail
Fill the form below to keep updated on price changes, product specials, firmware updates, etc.
This product is no longer available.
Finger Pulse Oximeter MD300C310 is a blood oxygen meter for measuring blood oxygen saturation level (SpO2) and pulse rate at home and hospital (including clinical use in internist/surgery, anesthesia, intensive care and etc). It provides spot checks for infants, children and adults.
The fingertip pulse oximeter has been approved by FDA (USA), PMDA (Japan) and CMDCAS (Canada).
MD300C310 also displays a pleth waveform that shows the change in blood volume in each heart beat and generally reflects the patient's cardiac condition.
The large multi-color digital display can show data in four different directions making it easy for the patient and caretaker to read. This is especially helpful when the patient has problem with hand or arm movement.
The digital pulse oximeter combines advanced technology with a stylish, wearable design. The alarm feature would alert you to any unusual readings.
The outstanding interference resistance capacity against ambient light along with wide-range accurate measurement even in low perfusion make this fingertip pulse oximeter one of the best oximeters in the world. It is equipped with pulse oximeter and sensor in one unit providing fast, real-time, reliable blood-oxygen saturation percentage, pulse rate and pulse strength measurements, with one button keypad and auto power-off.
Buy a MD300C310 today and we will include a FREE case to protect your pulse oximeter. This offer will last until our supply runs out.
For more information, please see our Choice MD300C310 Support Section.
Features
Certifications: FDA(USA), PMDA(Japan), CMDCAS(Canada), CE
Infants, children, and adults
Display SpO2, pulse rate, Bar Graph, Plethysmogram
True multi-color OLED (organic light-emitting diode) display
Ten levels adjustable brightness
Eight display modes
Audible and Visual Alarm
Pulse signal strength
30 hours continuous use
Low battery indicator
Automatic power-off design
2 AAA Alkaline or rechareable batteries
Technical specifications:
Weight: 30g without batteries
Dimension: 55mm x 32mm x 28mm
Display mode: OLED
Alarm mode: Audio alarm and visual alarm
SpO2:

Measurement range: 70-100%
Accuracy: @80%--100%, ±2%; @70%--79%, ±3%
Alarm: <90%
Resolution: ±1%

Pulse rate

Measurement range: 30-235 BPM
Accuracy: 30-100: ±2 BPM; 101-235: ±2%
Resolution: ±1 BPM
Alarm: <60 and >100 bpm
Signal strength bargraph display

Automatic power-off after 8 seconds
Resolution: ±1% for SpO2 and ±1BPM for pulse rate
Low power indicator
Environmental:

Operationing Temperature: 5°C - 40°C
Storage Temperature: -20°C - 55°C
Operating Humidity: ≤85%°C
Storage Humidity: ≤85%°C