Directory: Home | Healthcare | Finger Pulse Oximeter |
Choice Medical Handheld Pulse Oximeter MD300I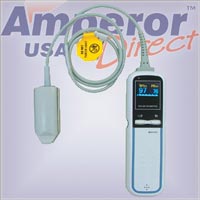 Pricing Information
AmperorDirect Price: $218.68
Shipping Included for USA customers (We ship internationally daily)
MD300I has been replaced by MD300I2, which is an enhanced model.
Shipping Information
Shipping Weight: 1.00 pounds
Shipping Cost: US Shipping included! Int'l Shipping calculated at checkout
In-stock items are normally shipped within 24-48 hours on business days. For special handling or overnight shipping, please call us at 281-664-1209.
Manufacturer Information
Manufacturer: Choice
Item Code: MD300I
Product belongs to these categories...
Product Updates by E-Mail
Fill the form below to keep updated on price changes, product specials, firmware updates, etc.
This product is no longer available.
Handheld Pulse Oximeter MD300I is for measuring blood oxygen saturation level (SpO2) and pulse rate at home and hospital (including clinical use in internist/surgery, anesthesia, intensive care and etc). Its stylish form form factor makes it ease to use and suitable for many applications. Furthermore it can store data for up to 72 hours and as many as 10 patients. Other types of sensors (BCI compatible) are available for use in different situations.
The oximeter can record SpO2 and PR values and transfer the data to a PC for further analysis. Patient ID and recording time can be entered for each set of data. This can easily achieved using the optional PC interface cable and MedView management software. The data and waveform replay capability make MD300I suitable for quick assessments or short term monitoring.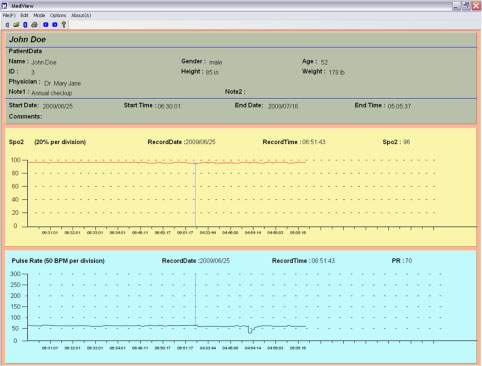 The handheld pulse oximeter has been approved by FDA (USA).
For more information, please see our Choice MD300I Support Section.
Features
Certifications: FDA(USA), CE
Adult, Pediatrics and Neonatal
True color OLED (organic light-emitting diode) display
Data analysis software available (optional)
Convenient clinic operation
Low power consumption
Up to 10 patients' information and 72-hours record storage
Three display modes
Low power indicator
Data transmission to a computer for data analysis
2 AA alkaline or rechargeable batteries
Technical specifications:
Patient: Adult, pediatric, and neonatal
Display: OLED
SpO2:

Measurement range: 70-100%
Accuracy: @80%-100%, ±2%; @70%-79%, ±3%
Resolution: 1%

Pulse rate

Measurement range: 30-235 BPM
Accuracy: @30-100 ±2 BPM; @101-235 ±2%
Resolution: 1 BPM
Pulse intensity bargraph indicator
PR tone modulation

Automatic power-off after 8 seconds
Low power indicator
Brightness adjustments: 10 levels
Alarm: Finger out, Probe off, Battery-low
Size: 130 x 40 x 27mm
Weight: 120g (including batteries)