Directory: Home | Healthcare | Finger Pulse Oximeter |
Oximeter with Data Recording by ChoiceMMed MD300C316
With alarm and PC software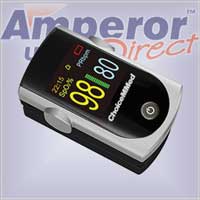 Pricing Information
Retail Price: $179.99
AmperorDirect Price: $97.88 (46% savings!)
Shipping Included for USA customers (We ship internationally daily)
If this oximeter is not available please visit the Finger Pulse Oximeter Index for a complete list of available oximeters in our Houston warehouse.
Shipping Information
Shipping Weight: 1.00 pounds
Availability: OUT OF STOCK
Shipping Cost: US Shipping included! Int'l Shipping calculated at checkout
In-stock items are normally shipped within 24-48 hours on business days. For special handling or overnight shipping, please call us at 281-664-1209.
Manufacturer Information
Manufacturer: ChoiceMMed
Item Code: MD300C316
Product belongs to these categories...
Product Updates by E-Mail
Fill the form below to keep updated on price changes, product specials, firmware updates, etc.
This product is no longer available.
Finger pulse oximeter MD300C316 is a premium product from ChoiceMMed. MD300C316 is a compact monitor for measuring blood oxygen saturation level (SpO2) and heart rate at home, medical clinics (hospitals, emergency room and doctor's office), exercise and high-altitude activities. MD300C316 is fast and can give a reading in under five seconds. It has a finger chamber for adult fingers; however with care, the pulse ox can also be used for infantsą and childreną.
MD300C316 has a built-in alarm for the pulse rate and SpO2. If any reading falls outside the defined range, the alarm would sound so one can take appropriate actions. The ranges can be specified in the system configuration menu.
Pulse oximeter MD300C316 comes with software for managing your data. The data can be transferred to your computer using an USB cable. Simply connected the pulse oximeter to your computer; after a few clicks, your report will show up on your computer screen.
MD300C316 has storage for up to 72-hours of data, which can be archived to a computer.
The pulse oximeter MD300C316 has a rechargeable lithium ion battery, which can be recharged via an USB port or an AC adapter.
Features
Certifications: FDA(USA), PMDA(Japan), CMDCAS(Canada), CE
Data storage: up to 72 hours
Patient ID codes: 99
Computer interface: USB
PC software included
Infants¹, children¹ and adults
OLED display
Display pulse rate, SpO2, Bar graph, plethysmograph
Four display modes
Seven levels of brightness
Alarms: outside SpO2 and pulse rate range, Low power indicator
Automatic power-off in 8 seconds
Power: 3.7V rechargeable Lithium ion battery SP080
Technical specifications :
Patient: Adult, pediatric¹, and neonatal¹
Dimensions: 56.5x36x26mm
Weight: 43g
Display: OLED
SpO2:

Measurement range: 70-99%
Accuracy: 70-99% ±3%
Resolution: 1%

Pulse rate

Measurement range: 30-235 BPM
Accuracy: 30-99BPM ±2; 101-235BPM ±2%
Resolution: 1 BPM

Low power indicator
Operation Temperature: 5°C-40°C
Operation relative humidity: ≤85%
¹ For patients with smaller fingers, place the fingernail right under the LED light and keep the finger still during the measurement. If not, you would get a bad reading.