Directory: Home | Healthcare | Finger Pulse Oximeter |
Bluetooth Pulse Oximeter CMS50EW
With alarm, Bluetooth and software support
Pricing Information
Retail Price: $169.99
AmperorDirect Price: $0.00 (100% savings!)
Shipping Included for USA customers (We ship internationally daily)
OUT OF STOCK
Shipping Information
Shipping Weight: 0.62 pounds
Shipping Cost: US Shipping included! Int'l Shipping calculated at checkout
In-stock items are normally shipped within 24-48 hours on business days. For special handling or overnight shipping, please call us at 281-664-1209.
Manufacturer Information
Manufacturer: Contec Medical Systems
Item Code: CMS50EW
Product belongs to these categories...
Product Updates by E-Mail
Fill the form below to keep updated on price changes, product specials, firmware updates, etc.
This product is no longer available.
Finger pulse oximeter CMS50EW is a premium pulse oximeter loaded with features and is highly reliable and accurate. The pulse oximeter is designed for use at home and medical facilities, such as hospitals, doctor's offices, and medical centers. Pilots and athletes will find CMS50EW helpful during their activities.
CMS50EW can transfer real time data to your computer. Just turn on Bluetooth on your computer and CMS50EW, start the CMS50EW software (SpO2 Assistant) and you will see your pulse and blood oxygen saturation level display on your computer monitor. If your computer does not have built-in Bluetooth capability, you would need to get a Bluetooth dongle for your computer. This is an ideal way of capturing data for sleep apnea study or during exercise.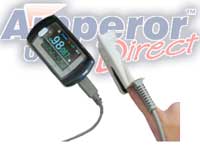 Under certain situations, such as sleep apnea study and during exercise, an optional silicone cover SpO2 probe may work better as it would help to keep the sensor in place. When using a probe, the data will be stored inside CMS50EW and can be uploaded later. When using the integrated sensor, the data can be transmitted to the computer at real time.
The multicolor display of CMS50EW is clear and attractive and is one of the best on the market. CMS50EW has 4 display modes so the readings can be viewed from all directions. This makes the reading easy for the caretaker or the patient. The audible alarm can be configured and switched on/off as desired depending on the environment. CMS50EW has an internal memory capable of storing 24-hour worth of data, which can be saved to a PC via a USB cable or Bluetooth adapter. Software is also included for reporting, data analysis and archive.
The pulse oximeter CMS50EW comes with a rechargeable lithium ion battery that will last for up to 24 hours. The battery can be recharged via the USB port. You can use any USB power source (e.g. computer) or the included AC adapter.
The alarm is surprisingly loud for such a small device and can wake someone up unless you are a heavy sleeper. You can use this as a warning if the oxygen saturation level falls below a preset number or the pulse rate falls outside a given range.
A patient can record the data, print reports and show them to his doctor. This will further assist the doctor in evaluating the patient's condition. No more expensive equipment is required.
For more information on CMS50EW, see our CMS50EW Reference page.
Sample computer screens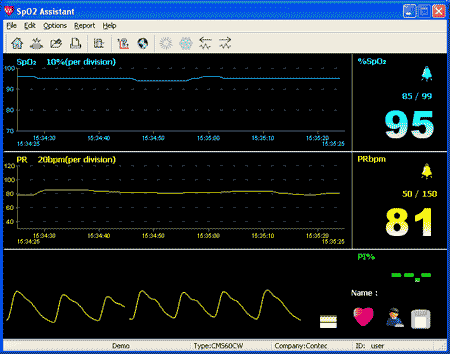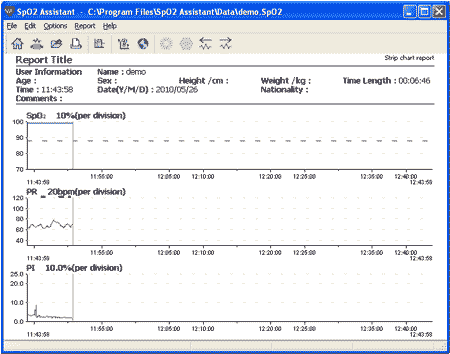 Features
Display SpO2 waveform (plethysmorgram), pulse rate, SPO2, pulse bar
Adjustable alarm thresholds
LCD display with four display modes
Bluetooth connection to PC
Reliable accuracy and durability
Automatic power-off design
Low power indicator
Pulse rate audio recognition function
Adjustable screen brightness
Real-time data transmission to computer
Software for data analysis and management
Storage for 24-hour data
USB cable and AC charger included
FDA 510(k)# K090671
Specifications
Display: 1.3" 65K Color OLED display
Screen Resolution: 128*96
Operating System: Windows
SpO2:

Measurement range: 0-100%
Accuracy: 70-100% ±2%;
Resolution: 1%

Pulse rate:

Measurement range: 30-250 BPM
Accuracy: 30-100BPM ±2; 101-235BPM ±2%
Resolution: 1 BPM

Power Supply: 3.7v rechargeable lithium battery
Battery Working Hour: 20 hours
Battery working life: Charge and discharge no less than 500 times
Dimension: 57x32x30 mm
Weight: 50g including batteries
Automatic power-off after 5 seconds
Low power indicator
Measurement Performance in Weak Filling Condition: SpO2 and pulse rate can be shown correctly when pulse-filling ratio is 0.4%. SpO2 error is ±4%, pulse rate error is ±2 bpm or ±2% (select larger).
Resistance to Surrounding Light: The deviation between the value measured in the condition of man-made light or indoor natural light and that of darkroom is less than ±1%.