Directory: Home | Audio / Video | BOCS Media Hub |
BOCS Media Hub - Special Promotion
Pricing Information
AmperorDirect Price: $199.99
Shipping Included for USA customers (We ship internationally daily)
Rated 5 STARS by our Amazon customers.
Shipping Information
Shipping Weight: 12.00 pounds
Availability: Ship in 48 hours
Shipping Cost: US Shipping included! Int'l Shipping calculated at checkout
In-stock items are normally shipped within 24-48 hours on business days. For special handling or overnight shipping, please call us at 281-664-1209.
Manufacturer Information
Manufacturer: BOCS
Item Code: XSB08-01-PACK
Product belongs to these categories...
Product Updates by E-Mail
Fill the form below to keep updated on price changes, product specials, firmware updates, etc.
BOCS Special Promotion
Ever wish you could watch your recorded movies anywhere in your house? BOCS is your ultimate whole home media distribution device. With the BOCS MediaHub installed at your main TV viewing location, no new wiring is required, you can watch and control your recorded shows from any TV in the house - living room, bedroom, entertainment room, kitchen, home office, exercise room, sun room… BOCS works with any source – TiVo, Roku, DVR, DVD players, iPod docks, or anything else you want distributed throughout your home. It is your ultimate TiVo DVR Upgrade! (Note: You only receive one remote in the package.)
Product Information
BOCS - the Ultimate TiVo DVR Upgrade
BOCS is the ultimate TiVo DVR upgrade. It can deliver TiVo DVR recordings anywhere in your house. (Note: This package includes one extra remote. You will receive two remotes in the package.)
Features and Benefits
Money Saving

- Imagine if you didn't have to rent the 2nd TiVo / DVR /Set-top box or buy the monthly TV guide subscription from TiVo. How much would you save? A typical family with more than 3 TV sets in the house could save more than $300 dollars a year.
Easy Installation - As long as you can install a DVD Player, you can install a BOCS. Just install the supercombiner at the cable main splitter location in your home, plug other A/V devices into the Red / Green / Blue channels at the back of the BOCS, pair the remote, and you are ready to go.
Control

- You and your spouse are the king and the queen of the house. You should be able to start the TiVo DVR recorded movie in the den over a glass of wine, hit the pause button on the remote, put a Do Not Disturb sign on your bedroom door, and finish watching in bed. Why would you two want to do this? I don't know...
Simplified operation - Now you can use your BOCS remote to control all the A/V equipment in your house. Besides, the device selection is color coded. You don't need to remember the special channel number assigned to the device.
No restrictions

- Any A/V device which has a composite output can be plugged into BOCS. TiVo, DVR, DVD-Player or iPod docking stations will all work with BOCS. There are also adapters, such as the VGA to RCA and the Component to RCA adapters available to connect your PC or Apple TV to the BOCS.
Please click here to read more about what BOCS can do for you. You can also click here to see a case study for the $$$ amount TiVo and DVR users can save by installing a BOCS in their house.
BOCS is backed with AmperorDirect's:
30-Days Money Back, No Question Asked Customer Satisfaction Guarantee.
You can call 281-664-1209 for any pre-sale or post-sale questions.
Don't Wait! Click on the "Add to Basket" Button to experience the above listed features and benefits, with no risk involved!

How it works:
A picture is worth a thousand words. Please look at the below picture for the BOCS setup.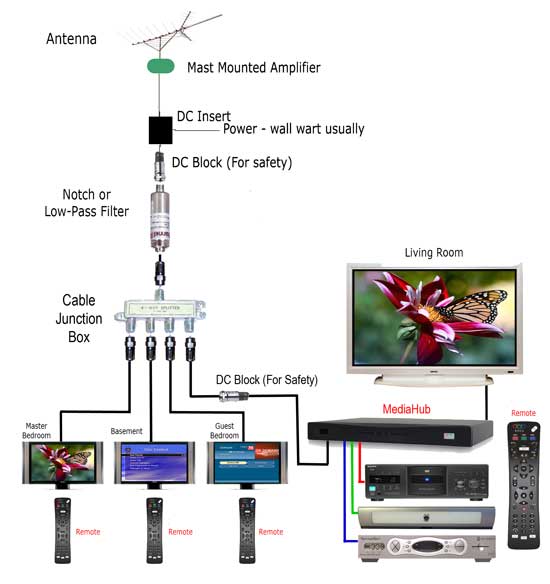 Connect the BOCS to the cable jack on the wall and attach A/V equipments to the Red / Green / Blue channels at the back of the BOCS. Your hardware setup is basically done. Isn't it easy?
In this arrangement, the cable TV signal will first be sent to BOCS. BOCS will inject the A/V equipments' output into the cable signal by using a low interference, proprietary technology. The processed cable signal will be re-broadcast back to the rest of your house. Now, you can not only watch the TiVo DVR recordings, but also use the BOCS RF wireless remote to control those A/V equipments anywhere in your house.
Want to learn more about what BOCS can do for you? Check out the BOCS manufacturer website.
You can see the BOCS back panel interface options in the below picture: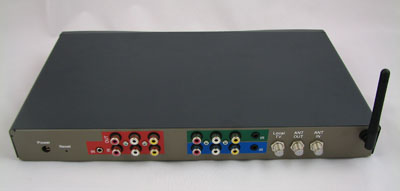 From left to right:
AC Power Connector
Reset Button
Red Channel: RCA In / Out and IR Blaster Connector (You should connect TiVo DVR to the red channel)
Green / Blue Channel: RCA In and IR Blaster Connector
3 Coax Connectors: Local TV / Ant In / Ant Out
Package Includes:
BOCS main unit
Supercombiner
One remote
3pcs IR blaster cables
One 18" Quad-shield RG6 coax cable
The Supercombiner is useful for filtering out several cable channels and is not required with using over-the-air television. Channels filtered out will not be available on the coaxial cable.
Accessories:
Want to learn more about what BOCS can do for you? Check out the BOCS manufacturer website.