AngelSounds Fetal Doppler Detector JPD-100S
Fetal Doppler fetal heart rate monitor with recording cable
Pricing Information
Retail Price: $39.99
AmperorDirect Price: $19.88 (50% savings!)
Shipping Included for USA customers (We ship internationally daily)
Clearance
Shipping Information
Shipping Weight: 2.00 pounds
Availability: Clearance
Shipping Cost: US Shipping included! Int'l Shipping calculated at checkout
In-stock items are normally shipped within 24-48 hours on business days. For special handling or overnight shipping, please call us at 281-664-1209.
Manufacturer Information
Manufacturer: Jumper Medical Equipment
Item Code: JPD-100S
Product belongs to these categories...
Product Updates by E-Mail
Fill the form below to keep updated on price changes, product specials, firmware updates, etc.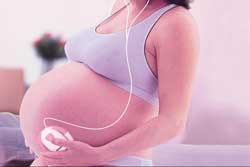 AngelSounds Fetal Doppler Monitor JPD-100S uses a 3MHz ultrasound Doppler probe to detect and monitor the fetal heart beat signals. The fetal heart monitor works on the principle of measuring the blood flow through your baby's heart and make your baby's heartbeat clearly audible.
With AngelSounds ultrasound fetal Doppler, you can listen to heart beats for as early as 12 weeks. You can record them to your PC as the baby grows; you can hear the heartbeat rate decreases from 155/195 bpm to 120/170 bpm as the baby develops; you can see how your baby responds to different stimuli. Parents, think of the excitement of hearing your child's heart beats while in the womb.
The heartbeat sound can be recorded with an audio recorder and you can email the sound files to grandparents and friends sharing your joy.
Remember that your doctor is the best source for information and your well being. This unit is not intended to replace a doctor's visit nor to do self diagnostics.
To improve sensitivity, rub some glycerin (lotion, baby oil) or water over the lower abdomen prior to operation. This would improve the contact between the probe and skin leading. Conductive gel would help, but not required.
Features
Certifications: FDA, CE
All-in-one design
3MHz ultrasonic probe for better detection of early fetus
Transmission of sound to computer for recording
Small and light weight with stylist design
Specifications
Ultrasound frequency: 3MHz
Overall sensitivity (200mm from the face of the transducer): ≥ 90dB
Ultrasonic emitting power: < 10mW/cm2
Output power: < 26mW
Audio output power: < 0.2W
Power: 9V alkaline battery
Dimension: 104mm (W) x 120mm (D) x 61mm (H)
Weight: 0.14kg (including battery)
Standard accessories: headset, recording cable, operation menu