Skype Stuffed Animal Webcam - Scotty Schnauzer
A huggable and lovable internet webcam!
Pricing Information
Retail Price: $49.95
AmperorDirect Price: $14.88 (70% savings!)
Shipping Included for USA customers (We ship internationally daily)
Shipping Information
Shipping Weight: 1.50 pounds
Availability: In-Stock, Ready to Ship
Shipping Cost: US Shipping included! Int'l Shipping calculated at checkout
In-stock items are normally shipped within 24-48 hours on business days. For special handling or overnight shipping, please call us at 281-664-1209.
Manufacturer Information
Manufacturer: Ham Friends
Item Code: K034
Product belongs to these categories...
Product Updates by E-Mail
Fill the form below to keep updated on price changes, product specials, firmware updates, etc.
This product is no longer available.
No longer does a webcam have to be cold and round! AmperorDirect introduces 'Ham Friends' lovable, huggable, and utterly "cuteable" stuffed animal webcam. The pint size webcam (about 6" tall) is the perfect gift for animal lovers or your girl friend.
Besides being incredibly cute, this webcam can serve an important purpose -- protecting your children and home/office valuables. Made to look like a normal stuffed animal, this webcam provides video security to your home or office.
Product Information
Specifications
CMOS sensor: 1/4" CMOS image sensor with 350K pixel
640 x 480 resolution
Lens: 5 layers glass lens
Connector: 1 downstream USB type A receptacle
Display color: 24 bit true RGB color
Focus range: manual, 6cm to infinity
Exposure: automatic
Power consumption: 110mA @ 5V operating
Storage temperature: -10 - 60C
Operating humidity: 10 - 90% non-condensing
Compliance: CE, FCC class B
Warranty: 3 years
Note: Image above shows Packaging Material - Makes a great gift!
System Requirements
Windows XP/Me/2000/98SE
1 Available USB port
Pentium 450MHz equivalent or above, 64MB RAM
Contents: PC Camera - User Manual, Driver CD
Note: This is 100% authentic 'Ham Friends' Internet webcam.
Items needed for setting up a security/observation webcam
Skype 2.5 or later version
(2) Computers - both with broadband - 'Home' and 'Away'
(2) SkypeIDs - one for each computer
(1) Skype Webcam for your 'Home' computer
Skype Security (or Observation) Webcam Setup
If you have a webcam you can set up a Skype security (or observation) application easily.
Instructions:
Computers with Skype (version 2.5 or higher) installed and broadband access on both "home" and "away" locations.
A webcam installed on the "home" computer correctly, and pointed at the subject/area you want to monitor.
On the "home" computer, go to Skype > Tools > Options > Video (BETA)


Turn On: Enable Skype Video
Turn On: When I'm calling, and activate the "start my video automatically" function (see image)
On the "home" computer, go to Skype > Tools > Options > Advanced > Call, and activate the "Automatically answer incoming calls" function.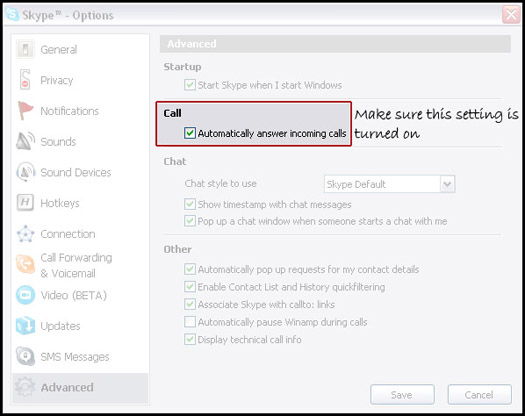 Then, call the "home" computer through Skype from your remote access "away" computer. The Skype call will be picked up automatically, the webcam will turn on, and the live capture video will be sent to your "away" computer screen.
By this point you might have this in mind: You want to have the Skype security cam always on. But, you still want to be able to receive other Skype incoming calls.
No problem. You can activate multiple Skype accounts or sessions at the same time on a Windows XP machine. See the instructions here. You can set up a new Skype account dedicated to working with the security application, and you can have your personal Skype account open to other incoming calls at the same time.
IMPORTANT NOTE: PLEASE KEEP YOUR SKYPE IDS FOR VIDEO SECURITY/OBSERVATION LIMITED TO THOSE SKYPE USERS YOU KNOW. SEE BELOW ON HOW TO LIMIT CALLS IN.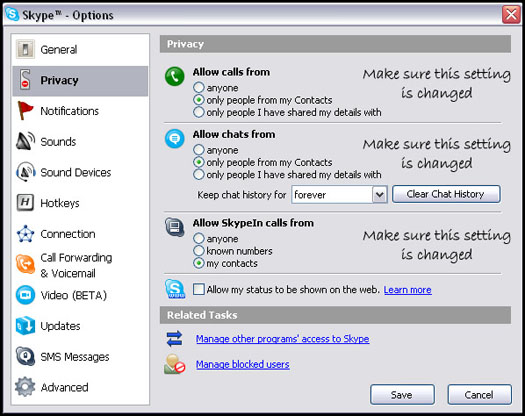 Compatibility
| | | | | |
| --- | --- | --- | --- | --- |
| | | | | |
| Windows | Google Talk | MSN Messenger | Yahoo! | Skype |