Foot Digital PC Camera
Clearance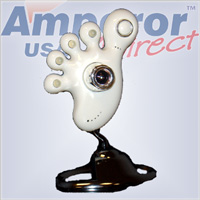 Pricing Information
Retail Price: $39.99
AmperorDirect Price: $13.88 (65% savings!)
Shipping Included for USA customers (We ship internationally daily)
Shipping Information
Shipping Weight: 1.00 pounds
Availability: In Stock, Ready to Ship!
Shipping Cost: US Shipping included! Int'l Shipping calculated at checkout
In-stock items are normally shipped within 24-48 hours on business days. For special handling or overnight shipping, please call us at 281-664-1209.
Manufacturer Information
Manufacturer: Generic
Item Code: CO22
Product belongs to these categories...
Product Updates by E-Mail
Fill the form below to keep updated on price changes, product specials, firmware updates, etc.
This webcam is cute and makes a good decorative item on your desk.
Features:
Resolution: 100K, 380K, 480K, 800K, 1300K pixels
High speed USB interface
LED indicator when power is on
Excellent still image capture
Image recording
Security function
Tile-swiveling base
System Requirements:
Pentinum CPU 333MHz or above
Windows 95/98/ME/XP/2003
16MB RAM or above
One available USB port
Sound card
Internet connection for video conferencing and calls