Directory: Home | Knowledge Base | Product Support |
ECG Monitor Observer MD100 Reference by ChoiceMMed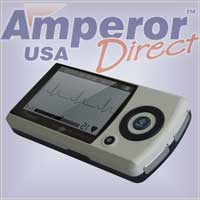 Choice Observer ECG / EKG Monitor MD100 Documents
Observer MD100A Operation Manual in PDF format
MD100E Operation Manual in PDF format
Observer MD100A Quick Operation Guide in PDF format
Keep-It-Easy System User Manual: Software guide in PDF format
Understanding the MD100A Result
ECG Graph
The ECG graph follows the standard convention of 25 mm/s paper speed. Each small square represents 0.04 sec (40 msec) in time and 0.1 mV in voltage. Each large block represents 200 msec and one second interval takes up 5 large blocks. A heart rate of 60 bps would have 5 large blocks per cycle; a heart rate of 75 bps would have 4 large blocks per cycle.
Measurement Positions
ECG cable configurations for Lead I, II, and III
LEAD
Cable
Body
I

RA

RA

LA

LA
LL
LL
II

RA

RA

LA

LL
LL
LA
III

RA

LA

LA

LL
LL
RA
Cable configuration: LA: positive, RA: negative, LL: neutral
Body position (see picture above):
RA: Under clavicle, next to right shoulder
LA: Under clavicle, next to left shoulder
LL: At left of underbelly
An ECG machine is simply a highly sensitive voltmeter for measuring voltages between two points at your body. With proper placement of electrodes, one can obtain readings of the full 12 channels, albeit one channel at a time. See 12-lead ECG Monitor for more details.
ECG Arrhythmia Analysis
The following list of outputs was obtained from a recent email exchange with the manufacturer.
30-second measurement
84 - Stable waveform
3 - Suspected Sinus halted beat
4 - Suspected fast beat
6 - Suspected slow beat
7 - Suspected missing beat
9 - Suspected Repeating early beat
10 - Suspected trigeminy
11 - Suspected bigeminy
12 - Suspected R wave on T wave
14 - Suspected Twin early beat
15 - Suspected early beat
20 - Suspected the other arrhythmia
21 - Poor signal, try again
Continuous measurement
Note: Text in parenthesis is my interpretation of the code.
V FIB (ventricular fibrillation)
A FIB (artia fibrillation))
ASYSTOLE (asystole)
TACHY ( tachycardia)
VTACHY (ventricular tachycardia)
BRADY (bradycardia)
MISSBEAT (missing beats)
FREQPVC (frequent PVC)
RUNPVC (run of PVC, PVC cluster)
TRIGEMIN (PVCs that occur at intervals of 2 normal beats to 1 PVC)
BIGEMINY (PVCs that occur after every normal beat)
R On T (R waves interrupting T waves)
INTERPVC (ventricular parasystole???)
COUPLET (two PVCs in a row)
Tips on usage
Registration for arrhythmia analysis. Both MD100A12 and MD100E sold here are already enabled for arrhythmia analysis and no additional registration is required. In the "version" page on the device (not the software), you should see the word "Registered." If not, send us the required information (order number and all the information in the "version" page) and we will get you the registration code.
The registration is with the device, not the software.
Tight connectors. To ensure proper contact, it may take some "unreasonable amount of force" and wriggling to fully insert the connector into the socket. You should barely see the ridge on the connector once fully inserted. However, after a few insertions, the connector is "trained" so the insertion would be much easier.
Loose cable connection. Good connection is essential to obtain a good ECG graph. When you plug the ECG cable into MD100A, make sure the plug is in all the way as shown in the left diagram below. When looking from the bottom of a MD100A, the ridge on the plug is mostly hidden. The socket may be tight and require some maneuvering to push the plug in. The right diagram below is an example when the plug is not in properly.
Partial screen. If you are using large font sizes, sometimes only part of the window is displayed. To get around this problem, right click on "Keep-it-Easy ECG System" icon and select Properties >> Shortcut >> Run >> Maximized. This would allocate the entire screen to the program and all missing parts would be shown.
Noisy signals. There are several possible reasons causing unstable signals. Here are some of them:
Dry or oily skin can weaken the signal detected by the monitor. Wash hand with soap to remove dirt and oil. Also wet hands with some tap water before taking a reading. Add a little bit of salt to the water would also help. Tap water is a good conductor and provides better contact.
If the handle muscle is tightened and strained, this would interfere with the ECG signal. Relax your hand while taking reading.
The contacts between the hand and the electrode must be firm and tight, otherwise noise is introduced at the contact points.
Other measurement positions. Readings can also be taken from other positions. For example, placing one electrode on the right palm and another electrode on the left calf (inner) would generate a reading corresponding to LEAD II. You can experiment with different positions using the basic 12 leads configuration as starting points.
PC connection or synchronization problem. See Connecting the device to PC for more information.
UserDA.txt. If you run into problem with this file, it may be corrupted. Find and delete the file. Replace it with an empty one.
12-lead ECG readings. See Using a single-channel EKG machine to simulate a 12-lead ECG monitor for more details.
For more information on electrocardiogram, visit our ECG / EKG Monitor Resource Center.
Email report. To email the reports, save the report to a file. To save to a file, print the report to a PDF printer (e.g. CutePDF, PDFCreator, Adobe PDF), not your regular printer. The Microsoft XPS Documenter Writer does not work anymore with the latest software release. Some PDF printers may not work; however we have tested the two PDF printers mentioned above.
Sample Report
The box labeled "Analyze Result" on the upper right corner shows the result the arrhythmia analysis. The red text is generated from the software and the blue text is entered by user.
Technical Data (MD100A1)
ECG Measurement:
Channel amount: 1 (difference input)
Measuring electrodes: Four integrative metal electrode, or three ECG electrode pieces connected to the ECG cable mount with selected ECG cable (optional).
Three Measuring parts: The signals measured can be I lead (between right and left hand) and approximate II lead or III lead (between the both hands and the chest).

Note: The signals measured by the device positioned from the right hand and left hand is lead I on a standard surface ECG. The signals measured by the device positioned from the right hand and left chest best approximates a frontal plane lead such as lead II on a standard surface ECG.

Signal bandwidth: 0.5Hz-75Hz
Sampling rate: 200Hz
Heart rate measuring range: 30bpm-240bpm
Heart rate measuring accuracy: 30~100bpm: ±2bpm; 101~240bpm: ±4bpm
Display Mode:
Display screen type: 160 x 240 dot matrix single color LCD.
Dimension of display area: 70mm x 45mm
Backlight: LCD back light
Dimension and Weight:
Dimension: 136mm x 84mm x 21mm(Length x Width x Height)
Weight: 100g (Not including Two AAA batteries)
Operating Environment:
Operation Temperature: 5°C~40°C
Atmosphere Pressure Range: 86kPa-106kPa
Operation Humidity: ≤93%
Operation Voltage: DC 3V (+0.3V, -0.8V); 2 AAA batteries
Storage Environment
Storage Temperature: -20°C~40°C
Storage Humidity: ≤80%
Data Storage:
Every record stores ECG data for 30 seconds.
The device can store 200 items of ECG strips records at most.
Product Accessories:
2 AAA Batteries
Pouch
Warranty card
ECG cable (optional)
Data cable
Data Management Software
Instruction manual
Quick Operation Guide
Classification: According to the type of protection against electric shock, it can be classified as internally power equipment. Its application type is CF and it is the movable common facility with no defibrillator or protection.