Directory: Home | Knowledge Base | Product Support |
Vital Signs Monitor Choice MD500B Reference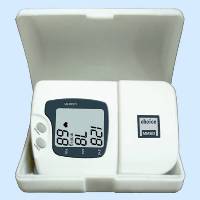 Thank you for purchasing and using SpO2 and NIBP monitor, wrist measurement MD500B, 90 times memory, easier to use.
Imported microcomputer chip and silicon pressure sensor are used.
Extra-large liquid crystal display makes the result read very clearly. This is convenient for middle age and old people.
The process of air inflation, measuring and reducing pressure are fully automatic. Your light press is only necessary.
The shape is small, exquisite and beautiful, and is convenience for carrying. You can know your healthy condition in anywhere at anytime.
The monitor can be used to measure human Haemoglobin Saturation and heart rate through finger.
The product is suitable for use in family, hospital
The product is not suitable to monitor patient continuously.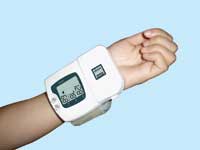 Usage tips
Positioning: Make sure the meter is placed at the inner part of the forearm; the meter and your palm are facing the same direction as shown in the right diagram; otherwise you may get an error message or an erroneous reading.
Height: When taking blood pressure, the unit should be at the same level as your heart; otherwise the reading would be off. Just bend your elbow and rest your wrist on your chest.
Wrist size: According to the manufacturer, MD500B works with wrists that have perimeters range from 13.5cm to 19.5cm.
1.2 Description of Front Panel
Based on oscillometric and silicon integrate pressure sensor technology, blood pressure can be measured non-invasively. The systolic, diastolic and pulse rate can be measured. For the SpO2 screen, you can see the Spo2 and PR, PR bargragh. Big screen will show the result of measurement.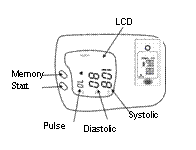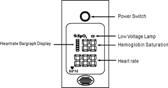 1.3 Specification
NIBP:
Measuring method: Oscillometric method, automatic inflation, automatic measurement, 90 times memory
Wrist cuff size: 310mm-75mm
Measuring accuracy: Within ±3mmHg(0.4KPa)
Blood pressure measuring range:20mmHg ~ 300mmHg(2.7KPa ~ 40KPa)
Pressurization: automatic air inflation by an air pump
Defilation: Automatic exhaust
Automatic power off: To be automatically cut off after 3 minutes of nonuse to save energy
SpO2
Display mode: OLED
Resolution: ±1% for SPO2 and ±1BPM for Pulse rate
SPO2:
Measurement range:70-99%
Accuracy: 80%--99% ±2%; 70%--80%, ±3%
Pulse Rate:
Measurement range: 30-235 BPM
Accuracy: ±2 BPM or ±2% (whichever is larger)
Pulse Intensity: Bargraph Indication
Automatic power off: To be automatically power off after 8 seconds to save energy
Other
Machine size: 105mmx75mmx34mm
Weight: 120g(excluding batter)
Power source: Two AAA size batteries
Classification: Internal powered Equipment Type BF
Battery life: Approx.1 months with 3-min.usage per day
Environmental temperature for using: 5 - 40℃
Environmental temperature for storage: 20 - 70℃
Environmental humidity for using: < 80%
Environmental humidity for storage: < 95%
Transport condition:
Atmospheric pressure range: 525mmHg-795mmHg(70KPa-106KPa)
Humidity range: Less than 95%
Ambient temperature range: -5-40℃
1.4 Certification