Directory: Home | Knowledge Base | Product Support |
BOCS MediaHub Support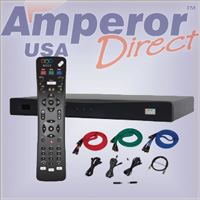 Documentation
Installation Procedure
Find a location for the Media Hub
Install the BOCS Media Hub
Program the Remote Controls
Allocate unused Over-the-air (OTA) TV Channels to Media Hub
In Houston, we got excellent result in using Channels 14, 16, 50, 52, 54 and 56 for the BOCS channels. From Houston TV channels, we found all the unused channels and also discovered that the highest occupied TV channel was 48 (virtual channel 47). Therefore any channels above 49 (48 + 1) would be available.
To minimize interference, there should be at least one channel separation between two active channels. For example, if there is already a channel 26, avoid using channel 25 or 27.
We examined the TV channels in the 5 largest TV markets (New York, Los Angeles, Chicago, Philadelphia, and Dallas-Ft. Worth) and we did not see any problem in finding available channels.
For more information, see the owner's manual and the BOCS FAQ page.
Wiring Diagrams for Over-the-air TV
Connecting the Coaxial Cable Splitter
Connecting a A/V device (e.g. DVD player) to MediaHub (Xtender)
Wiring Diagrams for Cable TV
With cable TV, the supercombiner (instead of the splitter) is required to clear a block of TV frequency spectrum for the BOCS channels. Hence, the original channels in this spectrum would not be available anymore unless they are routed to the TVs via another path.
Related Websites
Facebook: Xtender
Twitter: David on Twitter
Videos on BOCS