Directory: Home | Knowledge Base | Product Support |
BOCS - the New Whole-Home Surveillance Distribution System
Monitor Security Cameras in Any Room at Home
BOCS - the Whole-home Surveillance Distribution System

Video security systems have evolved over the last few years to bring whole-home surveillance and recording down to extremely economical levels. Unfortunately, some relatively new technical hurdles have rendered the process of installing filters and modulators to distribute security channels almost impossible in a Cable-TV home or office. There simply is no longer available bandwidth to add new channels. If you set up a system to broadcast security channels on channel 70, you are likely to kill MANY valuable stations like ESPN, CNN, or others since cable companies have gone digital and used almost every available space.

A whole new generation of distribution is now available – The BOCS system does not interfere with any cable-tv programs, allows you to receive cable-tv in the same location you are sending security video from, and only takes minutes to install.
Two things make this possible:
1) BOCS actually uses the FM band – which cable companies avoid like the plague since it tends to leak into their lines and cause interference. This is only possible because of patented technology that allows the filter and modulator to work together to clean up the bad and properly insert the new signal. In this case, BOCS uses channels 14, 98, and 96 for redistribution. (See the picture below)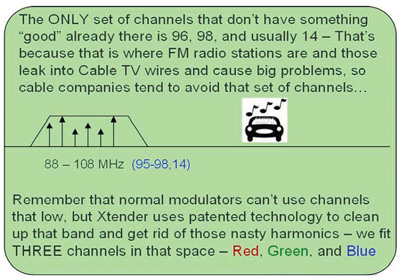 2) A new cable tv splitter called a "Supercombiner" allows cable signals to be used at the same location where you are creating the new security channels. The Supercombiner also takes care of filtering, signal conditioning, level balancing, and redistributing the new security channels to every other TV on the system.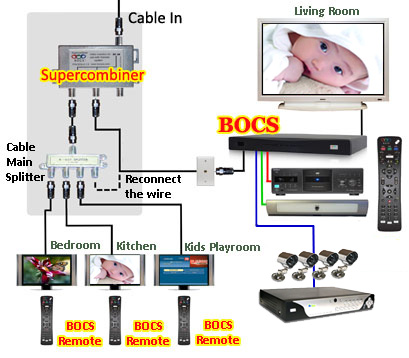 Each BOCS system comes complete with three distribution channels – allowing you to dedicate one for the baby, one for the front door, and one for cycling or a grid – all on top of the cable TV already present. If it is a home installation, any of the inputs could also be populated with a standard DVR or DVD player to integrate entertainment with security.
BOCS is the system that solves the distribution issues, saves you many hours of labor and materials in installation, and requires NO NEW wiring! You can now monitor the security cameras in any room in your house.