Directory: Home | Knowledge Base | Product Support |
How to Playback Downloaded Movies on Big Screen TV
See Your Favorite Stars on the Big Screen TV
The solution:


Over time, you have established an awesome collection of downloaded movies and video clips on your computer. You want to playback the media on your big screen TV to enjoy the better video and sound quality - and, of course, to never leave that comfortable sofa. But, you don't want to have the computer sitting in the living room due to its loud fan noise and its un-attractive appeal. If you have these concerns in mind, the HDX 1000 is the perfect solution for you.
How it works:
Just connect the HDX 1000 to the TV and the Network, go through the setup process, and you are ready to rock on. The set-up diagram is listed below. The HDX 1000 can be connected to the Network via a wired or wireless connection. From the HDX 1000 to the home entertainment system, you can use composite, component or HDMI connection. The S/PDIF coaxial digital audio port is also available for better audio performance.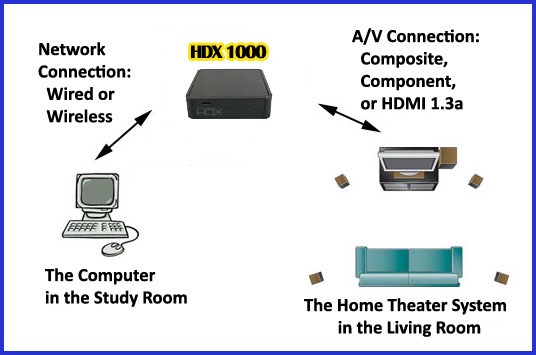 The user interface is displayed below. It is simple and straight-forward to locate a file in the computer.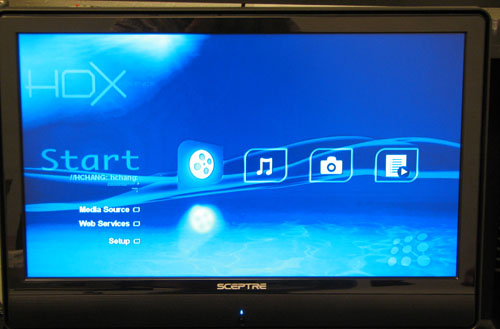 There is also additional plug-in movie jukebox software which can make the navigation more intuitional.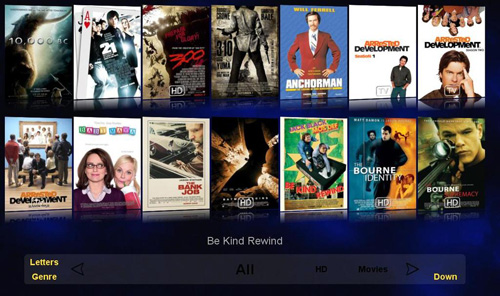 Extra Features:
Playback most of the formats, including mkv, that you can find on the P2P network.
Supports AC3 and DTS audio encoding format.
Attach an HDD to it. Make it a NAS to store all of your movies in.
Can playback movies reside in an external USB HDD or an USB drive connected to the USB port on the HDX 1000. Has a card reader on the front panel to playback media, including pictures, stored in a memory card.
Have a dedicated Media player to guarantee a smooth playback of your high CPU power demanding HD movies, so that you can free up your computer for other usage.
Use the HDX 1000 to perform Bittorrent downloading. Now your computer can rest during the night.
Browse popular audio / video sharing sites and listen to the Internet radio directly from the HDX 1000.
In below you can see my HDX 1000 working on the bench, reading a memory card via the card reader on the front pannel.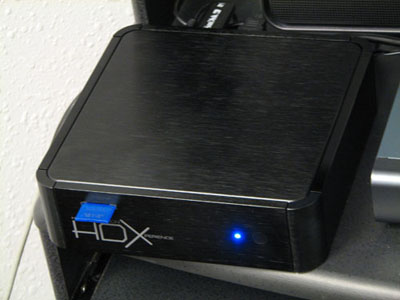 Have questions? Want to learn more about the HDX 1000? Please click on the Link to the HDX 1000 product page. You will also find an in-depth review on this product and the comparison between the HDX 1000 and its competitors, such as the Popcornhour A-110. There is also a quick installation Youtube video clip below to give you some ideas about how easy the setup process can be. Call us at 281-6641209 if you need further assistance. Enjoy!
Have more questions? Come chat with us and find out the answers in the real time.