Directory: Home | Knowledge Base | Product Support |
Yealink B3G RJ11-USB Skype Diverter Support Page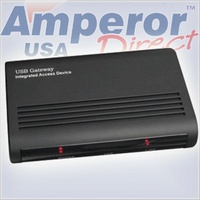 Reference Manual
Yealink B3G RJ11-USB Skype Diverter Reference Manual
Driver
You can download a copy of the latest driver and user manual from the Yealink website. Select "Support" and "USB VoIP Phone" to get to the download page.
Related Articles
Make International Calls using B3G
Skype Adapter: Convert Your Regular Phone to Skype Phone
Convert Your Cell Phone into a Skype Phone using Skype Diverter/Adapter B3G
Tips
From Asad K.: He was trying to program his cell to call the B3G to make Skype calls.
My cell phone has a setting for "Tone Length". If I change this setting to "Long" from the default value for "Short", then the dial-success rate goes up to 80% or better, as long as I also have at least a 6 second delay before entering the password#. With tone-length set to short, the success- rate is less then 10% regardless of how long a delay I put in.