Directory: Home | Knowledge Base | Product Support |
Ipevo SO-20 Skype WiFi Phone Support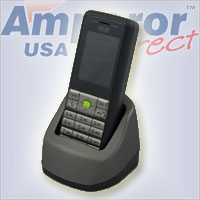 Headset
According to Ipevo, the phone uses a 4-segment headset and you can use the Nokia HS-47 or other compatible headsets.
Battery
The Ipevo SO-20 comes with a 3.7v 900mAh Li-ion battery, which is one of its weak link. The battery is compatible with Nodia BL-5C (BL5C) that is readily available and comes with different rating. Make sure you find one with the highest rating and from a reputable source. This would substantially increase the time between charges. One user reported the availability of one rated at 2000mAh.
Documentation
Manufacturer Product Support
Product Reviews
Review by hton (Skype forum participant) This posting contains a lot of useful tips on using SO-20.
Useful clips from the internet
Hangs or freezes: Firstly understand that when you first log on to a WiFi netrwork your IPEVO SO-20 begins to download your skype contact database. Avoiding using the menu selections for the first 2 minutes or so until this process is complete and this will help avoid hangs or freezes. Also appreciate the IPEVO SO-20 is a compact unit and does not have a lot of processing power. Trying to rapidly navigate through the menu keys may cause the unit to freeze. Pause for a while and it may clear itself or power the unit off then back on and navigate through the menu selections at a slower pace, one at a time and pause briefly between selections. Then it should be able to cope. From: Skype Forum
Cannot retrieve voicemails: Follow the following steps:
Go to: Menu - settings - About. What is the Product ID and software version? (Will be 1.2.0.24 or similar)
Check the volume rocker switch on the left hand side of the unit. Make a skype test call if necessary and adjust. If your software is 1.2.0.24 or 1.2.0.25 or later use 4 or 5 bars.li>
Check to make sure only your IPEVO SO-20 is logged into your skype account. Do not have an additional or simultaneous log in at a computer station.li>
Check to make sure you are retrieving your voicemails from somewhere relatively quiet. IE without background noise or people talking in the background so the mic doesn't pick up this noise.li>
Can you here your voicemails? Yes/Noli>
If No. Check to ensure a voice message was actually left and not just silence during the recording. Do this by logging in to your skype account using your computer. Can you retrieve and hear your voicemail?li>
If Yes. Log out of your skype account on your computer. Switch your Ipevo SO-20 off, pause and switch back on, (essentially you are doing a re-boot). Can you retrieve and hear your voicemail?li>
If No. Please reset your S0-20. Go to: Menu - Settings - General - Reset.li>
From: Skype Forum