Directory: Home | Knowledge Base | Pulse Oximeters | Pulse Oximeter Product Support |
Handheld Pulse Oximeter Contec CMS60D Reference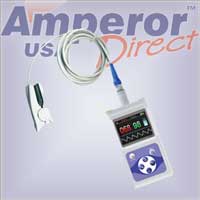 Download
Tips and Random Notes
Connection problem: The primary reasons for the software's failure to find CMS60D are driver installation and conflicts with existing installed programs. Contec CMS60D uses the driver CP210x USB to UART Bridge from Silicon Labs. This kind of problem is common to all devices using USB serial IO ports. See Device Connection Issues for more details.
WIN7 32-bit Bluetooth Update: BCM2046 Bluetooth Module update from Broadcom would cause problem with the Bluetooth connection. This update is normally embedded within an update bundle and you have to go into the details to find out if this particular update was included or not. Unstall this update would solve the problem.
Data files: Each upload is saved a data file on your computer. It is normally in a subfolder where SpO2 Assistant software is installed and has a file extension of SpO2. For example, on my computer, the data files are saved in "c:\Program Files\SpO2 Assistant\Data." If you cannot find the file locations, use Windows search function to look for files with SpO2 extension.
CMS60D Display