Directory: Home | Knowledge Base | Pulse Oximeters | Pulse Oximeter Product Support |
Contec Pulse Oximeter CMS50FW Reference
Documents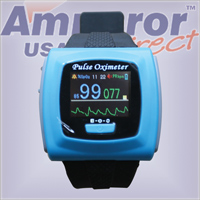 Tips and Random Notes
Functionally, CMS50FW is very similar to CMS50EW and they share the same software. See CMS50EW Reference for more support information.
Connection problem : The primary reasons for the software's failure to find the oximeter are driver installation and conflicts with existing installed programs. Contec oximeter uses the driver CP210x USB to UART Bridge from Silicon Labs. This kind of problem is common to all devices using USB serial IO ports. See Device Connection Issues for more details.
CMS50EW : Besides the device format, the software and internal hardware are very similar to CMS50EW. For more information on CMS50F, see CMS50EW Support Page.
Technical Support
Amperor Direct customers call (281)664-1214.
Further Readings