Directory: Home | Knowledge Base | Pulse Oximeters | Pulse Oximeter Product Support |
Pediatric Pulse Oximeter Choice Medical MD300C5 - Product Specifications
Choice Medical MD300C5 Pediatric Fingertip Pulse Oximeter - Technical Specifications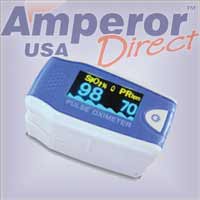 Display Type: OLED display
SPO2:
Measurement range:70-99%
Accuracy: ±2% on the stage of 80%-99%; ±3% on the stage of 70%-80%;
Pulse Rate:
Measure range:30-235 BPM
Accuracy: ±2 BPM for 30-100bpm or ±2% for 100 - 235bpm
Pulse Intensity: Bargraph Indicator
Power Requirements:
Two AAA alkaline Batteries
Power consumption: Less than 40mA
Low power indication:
Battery Life: Two AAA 1.5V alkaline batteries could be continuously operated as long as 30 hours.
Dimension:
Length: 50mm
Width: 28mm
Height: 28mm
Weight: 25g (excluding batteries)
Environment Requirements:
Operation Temperature: 5-40°C
Storage Temperature: -10-40°C
Ambient Humidity: 15%-80% in operation, 10%-80% in storage
Declaration: EMC of this product comply with IEC60601-1-1-2 standard.
Measurement Performance in Low Perfusion Condition: Oxyhemoglobin and pulse value can be shown correctly when pulse-filling rate is 0.5%
Interference Resistance Capacity against Ambient Light: Deviation is smaller than ±1% between value of Oxyhemoglobin measured in natural lighting indoor condition and present lighting sources and that measured in dark room.
Pulse signal strength indicator
PR tone modulation function
10 levels of adjustable brightness
Related Articles...