Directory: Home | Knowledge Base | Pulse Oximeters | Pulse Oximeter Product Support |
Wrist Pulse Oximeter Choice MD300W1 Product Description
General Description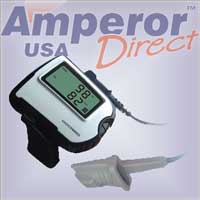 The MD300W wrist oximeter is a small, wrist-worn device indicated for use in measuring, displaying, and storing functional oxygen saturation of arterial hemoglobin (SpO2) and pulse rate. It may be used for spot-checking and/or data collection and recording of adult and pediatric patients in hospitals, medial facilities, ambulatory, subacute, and sleepy study environments.
Scope of application:
OSAS (obstructive sleep apnea syndrome) patients
Outdoor sportsman
Best solution to SIDS (sudden infant death syndrome)
Fire fighter, Military, Pilot collier, Subhealth.
The function of this new type unit includes: SpO2 & PR oximetering, finger out indication, sensor out indication, data storage, data transfer.
Know Your Unit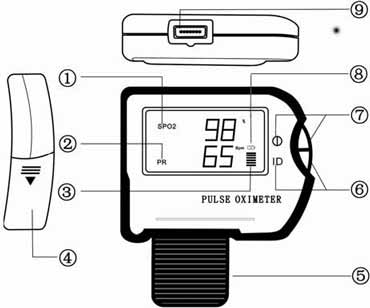 SPO2: Real-time SpO2 value of measuring. (Now the value is 98%)
PR: Real-time pulse rate value of measuring. (Now the value is 65)
Pulse Strength Bargraph, the height of the pulse bargraph is proportional to the pulse amplitude.
Battery box cover.
Reusable Wristband
OK button / Parameter selection button
Power / data setting button, press this button for a long time, you can turn on or turn off the unit; under setting menu, press this button for a short time, you can set the data.
Low battery voltage
Sensor / Data Transfer interface
Product Features
Exquisite, compact & light design.
Displaying & recording SpO2 &PR rate.
USB interface for data transfer.
Wearing around wrist, very compact design, easy-to-carry on hand, a weight of only 26g.
A safe and convenient design of keeping sweat outside the product.
One AAA battery, easy to replace, and insuring power support.
Low power consumption.
<< BACK