Common LED Power Supply Issues Explained
Our PS don't have those issues
---
Do you have any of the following issues regarding your current LED driver power supply?
The power supply for my LED sign application cannot deliver full power at higher temperatures.
The power supply for my outdoor architectural lighting application is not truly water proof.
The power supply for my commercial LED display only lists the European agency regulations.
The power supply vendor for my channel letters requires me to purchase in quantity.
My LED manufacturer forces me to use their low quality LED driver power supply with their LEDís.

These are common issues related to power supplies used in emerging industries such as LED signs, LED architectural lighting, and LED luminaires.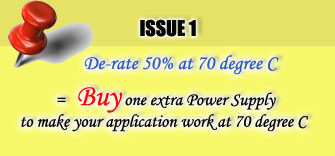 The output of almost all LED power supplies drops off quickly at temperatures above 50 degrees C. This is indicated in the steep de-rating curve in the power supply specification. This drop-off can be as much as 50% to 100% of the output power. Applications in hotter locations require the installation of extra power supplies to compensate for this.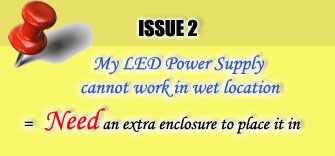 Some LED power supplies are not designed for use in outdoor or wet locations. This requires the construction and added cost of an extra waterproof enclosure for the power supply in order to comply with UL regulations regarding this.
Some LED power supply vendors are listed with European TUV safety regulations such as IP66 or IP67. UL does not recognize the European IP specification. Using these power supplies requires the addition of a separate enclosure for the power supply to comply with ULís wet location regulations, and submission of the entire LED system to UL for approval. All of these issues bring more complexity to the LED application design process, reduce the reliability of the installed power supply, and increase the cost.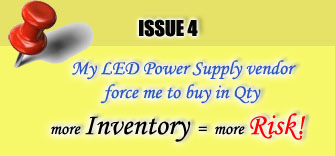 The good news is Amperor Inc. has an LED power supply solution that resolves all of these issues.
All of Amperorís LED power supply families: ANP-90, ANP-155 and ANP-240 are guaranteed to deliver 100% full output power up to 70 degrees C. This can reduce the number of power supplies in your application and reduce overall system cost.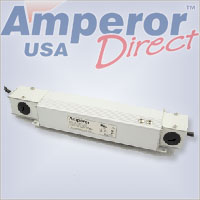 All of Amperorís LED power supply families are built with rugged aluminum enclosures, silicon encapsulation, water-tight connectors, and an innovative wiring chamber design. This makes them suitable for use in wet locations. Amperorís LED power supply solutions are listed in the Sign Component Manual (SAM) and have fewer exceptions based on the conditions of acceptability. This saves the cost and hassle of separate UL certification.
Amperor offers one more major advantage to the LED sign, LED architectural lighting, and LED luminaries industry. We are the manufacturer. Amperor stocks enough LED power supply inventory in our Houston based warehouse facility to meet the rapidly increasing demands of the US market. We have established a fully-functional e-commerce website to fulfill any of your requirements. You can also contact our account managers in our Houston office or any of our US based manufacturerís representatives. Just give us a call and our friendly and knowledgeable sales force can assist you with your LED application. Again, call us today at 281-807-1209 and ask for our top-of-the-line 90W 24V output Class-II LED power supply: ANP-90-24P.