Baby Sound A Fetal Doppler Monitor
Ultrasound Fetal Doppler for monitoring baby heartbeats
Retail Price: $39.99
AmperorDirect Price: $19.99
(50% savings!)
Standard US shipping included (We ship internationally daily)

Clearance
---
---
Product Description
•••••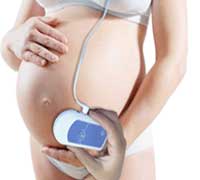 Baby Sound A Fetal Doppler is a safe and easy to use baby heartbeat monitor that has been specially designed for use at home, allowing pregnant women to listen to their unborn baby's heart beats, movements and hiccups from as early as 10 to 12 weeks. It is suitable for expectant mother to carry out regular checks on her baby in between routine hospital checks. It can not only reduce the expectant mother's anxiety but also allow other members of the family to listen to the baby heartbeat. This portable device is also suitable for obstetricians and midwives.
With Baby Sound A ultrasound fetal Doppler, you can listen to heart beats and record them to your PC as the baby grows; you can hear the heartbeat rate decreases from 155/195 bpm to 120/170 bpm as the baby develops; you can see how your baby responds to different stimuli.
The heartbeat sound can be recorded with an audio recorder and you can email the sound files to the grandparents and good friends, and share your joy.
Remember that your doctor is the best source for information and your wellbeing. This unit is not intended to replace a doctor's visit nor to do self diagnostics.
Features
Integrated design - ultrasonic probe is integrated with main unit
High sensitive doppler probe (2 MHz)
Crystal clear sound
Low power consumption
Compact & light
FDA & CE approved
Useful tips
During early pregnancy, place the probe just above the public bone where most likely you can find the fetus headbeat. As the fetus grows, move the probe higher to search for the heartbeat.
Ask your doctor or ultrasound tech to help you to locate the heartbeat.
Lean the probe downward toward the public bone to get a better reception.
Use baby oil or body lotion to get better signal. Ultra-sound gel would help, but not necessary.
Specifications
Heart rate range: 50 - 240bpm
Accuracy: ±2%
Ultrasound frequency: 2 MHz
Ultrasound intensity <10mW/cm²
Battery Life >360 minutes
Dimensions: 110 x 55 x 16 mm
Weight: 80g, including 2 AAA batteries
Power source: 2 x AAA 1.5V alkaline batteries
Shipping Information
Shipping Weight: 2.00 Pounds
Availability: In stock! Ready to ship.
Shipping Cost: US Shipping included! Int'l Shipping calculated at checkout
In-stock items are normally shipped within 24-48 hours on business days. For special handling or overnight shipping, please call us at 281-664-1209.
---
Manufacturer Information
Manufacturer: Contec Medical Systems
Item Code: BABY-SOUND-A
Product belongs to these categories...
Doppler Fetal Heart Monitors