Directory: Home | Healthcare |
Personal ECG Cardiac Monitors
Personal ECG / EKG monitors for Sale! Buy a cardiac monitors here. We offer the best value for your dollar.
These cardiac monitors give you a snapshot of your heart's electrical activity and condition. You can even save the data to your computer, print reports and email reports to your doctor for analysis.
We do overnight shipping within US. All our products are FDA approve and we do immediate shipping from our warehouse in Houston, Texas not from other countries. Call us at 281-664-1209.
We offer group discounts to organizations and wholesale prices to resellers. We accept purchase orders for approved accounts. Please contact us.
Retail Price: $449.99

Our Price: $178.88

Shipping Included

Retail Price: $499.99

Our Price: $229.99

Shipping Included

Our Price: $145.99

Shipping Included

---

Our Price: $49.99

Shipping Included

Our Price: $13.88

Shipping Included

Retail Price: $79.99

Our Price: $19.99

Shipping Included

---

Our Price: $35.88

Shipping Included
ECG or EKG monitor is a cardiac monitoring medical device for capturing and displaying the electrical activities generated by your heart. By closely examining the electrocardiogram (ECG, EKG) waveform, one can tell a lot about the current heart conditions. The heart's electrical system controls the sequence of events that pumps blood throughout your circulatory system.
Many heart symptoms are transitory and cannot be captured easily anytime by looking at the EKG. Timing is the key. A readily available personal ECG monitor is the best alternative to capture and save the measurement when one is having heart attack symptoms. The data can be further investigated by a doctor later.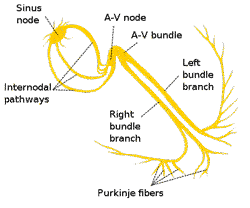 The heart's electrical system consists of three main parts:
The SA (sinoatrial) node, which locates at the top of the right upper heart chamber (atrium) and is the pacemaker that controls the heart beat
The AV (atrioventricular) node, which locates in the middle of the top and controls the pumping of blood into the body
The His-Purkinje system, which locates along the heart's ventricle (lower chamber) walls and sends the electrical impulses to the ventricular muscle causing the contraction
A EKG cycle consists of 6 waves: P, Q, R, S, T and U. The P wave is when the atria pump blood into the ventricles; the QRS complex is when the ventricles pump blood into the body; the T wave is when the ventricles relax and getting ready for the next cycle; the U wave is not always present and is typically low amplitude. The frequency, rhythm, waveform, and relative timing of these waves offer important clues to your heart's condition.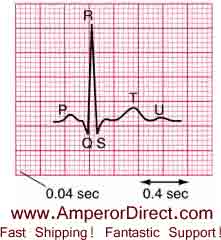 For for information, visit our ECG Resource Center. Also the article How Heart Works from NIH gives an excellent description on the heart's electrical conduction system.