Directory: Home | Healthcare | Personal ECG Cardiac Monitors |
MD100E - Personal ECG Monitor by ChoiceMmed
ECG arrhythmia analysis function. Include Cable and Electrodes.
Pricing Information
Retail Price: $499.99
AmperorDirect Price: $229.99 (54% savings!)
Shipping Included for USA customers (We ship internationally daily)
Available Now
Shipping Information
Shipping Weight: 2.00 pounds
Availability: In stock! Ready to ship.
Shipping Cost: US Shipping included! Int'l Shipping calculated at checkout
In-stock items are normally shipped within 24-48 hours on business days. For special handling or overnight shipping, please call us at 281-664-1209.
Manufacturer Information
Manufacturer: ChoiceMMed
Item Code: MD100E
Product belongs to these categories...
Product Updates by E-Mail
Fill the form below to keep updated on price changes, product specials, firmware updates, etc.
Home ECG Monitor MD100E is for taking one's electrocardiogram anytime anywhere: at home or office. The personal ECG Monitor Observer MD100E is compact, light, and easy to use. It takes less than a minute to take and record a reading. Home cardiac monitors are essential for assessing and improving your heart conditions.
Personal EKG Monitor MD100E is designed for home monitoring and can be used by anyone, especially those who may suffer from cardiovascular disease. Regular and frequent measurements of the heart's health condition will help you and your doctor to recognize risk factors in early stage and act accordingly. The stored data can be used as a reference for clinical ECG examination. Know your heart; know your health anytime anywhere.
Cardiac symptoms, such as chest pain, palpitations, and shortness of breath are transient and may be difficult to record during a regular exam in a doctor's office. The best time to take a reading is when the patient is experiencing heart attack symptoms. Another alternative is to record the measurements throughout the entire day, including bedtime. Later show the data to your doctor for further diagnosis.
Timely monitoring and treatment are essential to treating heart patients. During a severe heart attack, speedy help is critical to a patient's survival.
The home cardiac monitor can reduce the chance of having false heart attack, which can cause tons of stress and anxiety, and in turn may trigger a real heart attack. Get some basic understanding of EKG waveforms to tell the differences between a normal EKG versus a abnormal one. This may save a life.
A patient should also be familiar with his "normal" or baseline ECG waveform. This waveform can be compared with subsequent readings to gauge any changes in conditions.
The ECG machine can also be used to track the effectiveness of the patient's medication. See Benefits of Personal ECG Machine for more details.
MD100E supports two modes of operation - 30-second measurement and continuous measurement. The 30-second measurements are saved automatically in the device memory and can be uploaded to a computer later. The continuous measurements can be saved only if the MD100E is connected to a computer.
For more information, see our MD100A Support Page.
Measurement Positions
Note: We have tried taking the measurement with the right hand on one side and left inner calf on the other and have obtained good and clear LEAD II readings.
...AmperorDirect.com
Computer output
MD100E cardiac monitor can record the EKG and pulse rate data and transfer to a PC for management and further analysis. The software is included. The following diagram illustrates the record management screen of the software.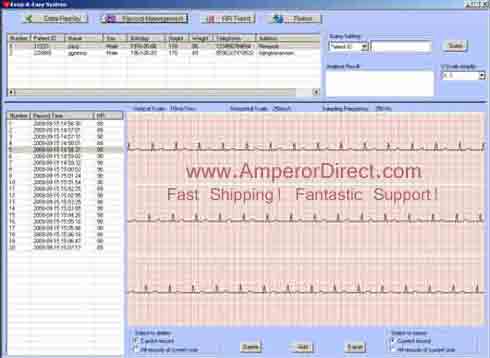 The following picture is clipped from a sample printed report.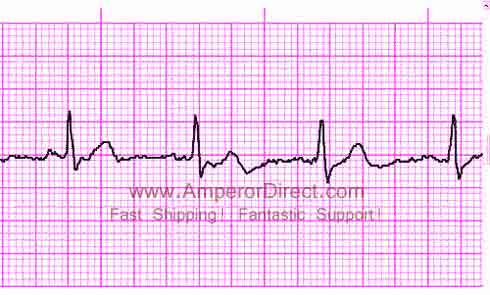 Features
Measurements: ECG waveform, heart rate and analysis results
Leads: I, II, and III
Detailed EKG analysis report
ECG arrhythmia analysis
Convenient cable-free operation
PC software for data management and analysis
ECG cable and electrodes (included)
Measurement in 30 seconds
Memory for storing 100 30-second ECG measurements
Continuous measurement supported
Backlit LCD color display
Auto power-off in 60 seconds
Low battery indicator
Power: Two AA batteries
FDA 510(K)# K080933
Technical Specifications
One measurement channel
Micro-SD card
Display screen: 60 x 45mm multicolored TFT
Signal bandwidth: 0.5 - 75Hz
Sampling rate: 250Hz
Heart rate: 30-100bpm ±2; 101-240bpm ±4
Dimension: 140 x 75 x 26mm
Weight: 100g (not including two AAA batteries)
Windows supported: XP, Vista, and 7