Directory: Home | Healthcare | Pulse Oximeter Probes and Sensors |
ChoiceMMed Reusable Neonate Wrap Oximeter Probe
Multisite Applications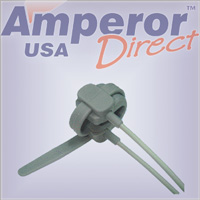 Pricing Information
AmperorDirect Price: $86.28
Shipping Included for USA customers (We ship internationally daily)
Available Now
Shipping Information
Shipping Weight: 1.00 pounds
Availability: In stock! Ready to ship.
Shipping Cost: US Shipping included! Int'l Shipping calculated at checkout
In-stock items are normally shipped within 24-48 hours on business days. For special handling or overnight shipping, please call us at 281-664-1209.
Product Updates by E-Mail
Fill the form below to keep updated on price changes, product specials, firmware updates, etc.
M50C infant wrap SpO2 pulse oximeter sensors are intended for continuous monitoring of arterial oxygen saturation and pulse rate. The pulse oximeter SpO2 probes are compatible with BCI and Choice pulse oximeters with DB9 connectors. All material that comes into contact with skin has passed the biocompatibility test and can minimize the risk of skin allergies, cell cytotoxicity and stimulating.
The M50C infant wrap pulse oximeter sensor probe is for adults, children, infants and neonates. The sensor can be applied to multiple sites, including fingers or toes. By wrapping the SpO2 probe around an infant's finger, toe, hand or foot makes taking measurements a lot easier.
Recommended positions : Use lateral side of foot for 2~9lbs (1~4kg) patients; use big toe for >7lb (3kg); use big toe or finger for >22lbs(10kg).
M50C infant wrap probe has two different types of connectors as shown in the diagram below - DB9 (left) and miniature D (right).

M50C infant wrap SpO2 sensors are FDA approved.
WARNING: For continuous monitoring of a baby, the monitoring must be performed under constant adult supervision. The probe is not a toy and the baby must not be allowed to tangle up with the cable. This is especially true when the infant is capable of pulling things and can move his body around. Attach the probe to his feet; run the cable towards the end of the bed away from his body; keep the cable out of the baby's view; secure the cable so that he cannot grab the cable or tangle himself.
One approach is to secure the cable onto the bed sheet using safety pins, cover the cable with another bed sheet leaving only a few inches out for attaching the probe to the baby, and then tuck the ends of the both bed sheets firmly and tightly under the mattress.
Compatibility
DB9 connectors
Choice compatible pulse oximeters: MD300K1, MD300K12, MD300K2, MD300K3, MD300M, MD300I, MD300I1, MD300I2, MB300WB, MD2000A, MD300B, MD300B-S, MD300A, MD300H, MD2000B
Miniature D connectors
Choice compatible pulse oximeters: MD300W1, MD300I-P
Technical Specifications
Measuring range for SPO2: 70-100%
SpO2 measurement accuracy: 90%--100%, ±1%; 70%--89%, ±2%; ≤70%, unspecified.
Storage temperature: -20°C to 50°C
Operation temperature: 5°C to 40°C
Relative humidity: 35% - 75%