Directory: Home | Healthcare | Finger Pulse Oximeter |
Pediatric Finger Pulse Oximeter MD300C55
Oximetry for Children. Carrying case included.
Pricing Information
Retail Price: $79.88
AmperorDirect Price: $48.88 (39% savings!)
Shipping Included for USA customers (We ship internationally daily)
NEW LOWER PRICE ON ALL INVENTORY - 25% TO 40% OFF. NO COUPON NECESSARY.
Shipping Information
Shipping Weight: 0.43 pounds
Availability: Same day shipment Monday thru Friday
Shipping Cost: US Shipping included! Int'l Shipping calculated at checkout
In-stock items are normally shipped within 24-48 hours on business days. For special handling or overnight shipping, please call us at 281-664-1209.
Manufacturer Information
Manufacturer: ChoiceMMed
Item Code: md300c55
Product belongs to these categories...
Product Updates by E-Mail
Fill the form below to keep updated on price changes, product specials, firmware updates, etc.
Pediatric Pulse Oximeter Choice MD300C55 is a portable non-invasive device for spot checking oxygen saturation (SpO2) and pulse rate at home and hospital (including clinical use in internist/surgery, anesthesia, intensive care, etc). It comes with a case and a protective skin.
The children fingertip pulse oximeter has been approved by FDA (USA), PMDA (Japan) and CMDCAS (Canada).
MD300C55 pediatric digital pulse oximeter is designed for children weighing 33-100 lb or 15-45 kg. MD300C55 uses a special pediatric oxymetry sensor calibrated specially for children¹. It helps to minimize inaccurate measurements due to movement. The probe also has a smaller opening to better fit children's fingers. MD300C55 is one of the best pulse oximeters for children.
The digital display can show data in six different modes making it easy for the patient and caretaker to read. This is especially helpful when the patient has problem with hand or arm movement.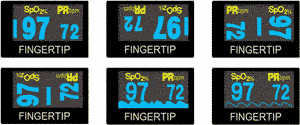 The digital pediatric pulse oximeter combines advanced technology with a stylish, wearable design. Featured with a large bright blue LED display which allows you read in the dark and severe weather condition. MD300C55 fingertip pulse oximeter provides accurate readings - oxygen saturation, pulse rate along with pleth waveform.
Pediatric pulse oximeter MD300C55 has outstanding interference resistance against ambient light and can make a wide-range of accurate measurements even in low perfusion. This fingertip pediatric pulse oximeter is one of the best oximeters in the world. Deviations are less than ±1% where comparing readings taken in indoor natural lighting against those taken in a dark room.
For more information, please see our Pediatric Pulse Oximeter MD300C54 Support Section.
Features
Certifications: FDA(USA), PMDA(Japan), CMDCAS(Canada), CE
Specially design for children¹ with simple and easy operation
Small & lightweight design (total 25g without batteries)
Dual color OLED display with 10 levels of brightness
Display SpO2,pulse rate, bar Graph, SpO2 waveform
Six display modes
Low power consumption, automatically power off
Low power indicator
2 AAA Alkaline or rechargeable batteries
Technical Specifications :
Display mode: Dual color OLED
SpO2:

Measurement range: 70-99%
Accuracy: @80%-99%, ±2%; @70%-79%, ±3%
Resolution: ±1%

Pulse rate

Measurement range: 30-235 BPM
Accuracy: 30-100: ±2 BPM; 101-235: ±2%
Resolution: ±1 BPM

Operation time: 30 hours under normal conditions
Automatic power-off
Low power indicator
¹ For patients with small fingers, it is important to position the fingernail right under the LED light and to keep the finger still during the measurement.