Directory: Home | Healthcare | Handheld Pulse Oximeter |
Handheld Pulse Oximeter Contec CMS60D
Pricing Information
AmperorDirect Price: $129.88
Shipping Included for USA customers (We ship internationally daily)
OUT OF STOCK - NEW SHIPMENT COMING SOON.
Shipping Information
Shipping Weight: 1.00 pounds
Shipping Cost: US Shipping included! Int'l Shipping calculated at checkout
In-stock items are normally shipped within 24-48 hours on business days. For special handling or overnight shipping, please call us at 281-664-1209.
Manufacturer Information
Manufacturer: Contec Medical Systems
Item Code: CMS60D
Product belongs to these categories...
Product Updates by E-Mail
Fill the form below to keep updated on price changes, product specials, firmware updates, etc.
This product is no longer available.
Handheld Pulse Oximeter CMS-60D is a high-performance patient monitoring system that measures your blood oxygen saturation. Lightweight, completely portable and engineered for durability, the Contec Handheld Pulse Oximeter provides fast, reliable SpO2 and pulse-rate measurements on any patient from infant to adult. It is designed for spot checking and continuous monitoring. The Handheld Pulse Oximeter is simple to use and produce accurate measurements. It allows you to guarantee your blood oxygen levels are where they need to be.
The CMS-60D Handheld Pulse Oximeter is extremely easy to use and is ideal for respiratory monitoring in a home care setting. Providing fast and accurate readings, a bright, easy-to-read LED screen clearly displays your blood oxygen results, while a quantitative pulse strength bar depicts actual signal strength for a true indication of pulse strength and perfusion status. The Contec CMS60D Handheld Pulse Oximeter uses two AA batteries that can provide power for extended measurements.
This device has the function of 24 hours data storage. It can store the measured pulse rate data and SpO2 data accurately, transfer the data to the computer via a USB cable, display the data and print reports (with the included software).
Ear clip and silicone cover SpO2 probes are also available. The silicone probe is more appropriate for sleep study as it would help to keep the sensor in place as your body turns while sleeping.
For more information, go to the CMS60D reference section.
Sample computer screens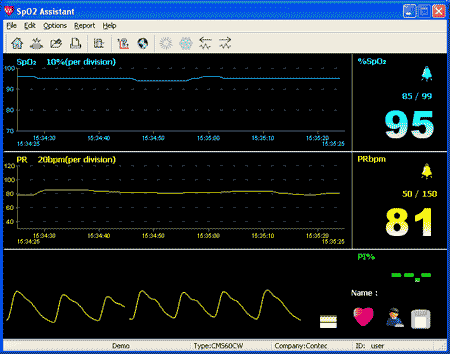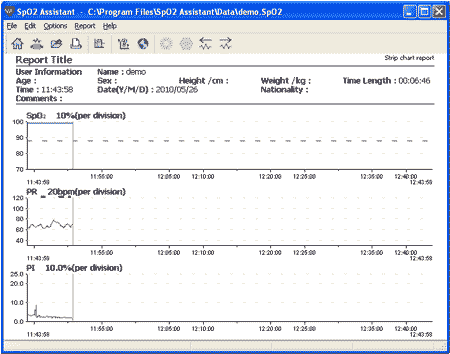 Feature:
Certifications: FDA(501K# K090671)
Adult, Pediatrics and Neonatal (adult probe is included)
Mode of operation: Spot check, continuous monitoring
Display: 1.8" Color TFT with 160x96 resolution
Data analysis software
Display Mode: Display Direction adjustable
Indicator: Power indicator, Alarm sound, Pluse tone
Power Supply: 2 AA Batteries
Data can be recorded for up to 24 hours
Alarm: High and Low limits (adjustable)
For more information on CMS-60D, download the user manual
Technical specifications:
Dimention: 92(W)x82(H)x22(D)mm
Weight: 136g (with battery)
Operation Environment:

Temperature: 0° ~ +40°C
Humidity: 15% ~ 95%

Storage Environment:

Temperature: -20° ~ +60°C
Humidity: 10% ~ 95%

SPO2:

Measurement Range: 0 ~ 100%
Resolution: 1%
Accuracy: ±2% (70%~100%, Adult/Pediatric, non- motion), ±3% (70%~100%, Neonate, non-motion)
Alarm Range: 0% ~ 100%
Refreshing Rate: 1 sec

Pulse Rate:

Measurement Range: 25 ~ 250 bpm
Resolution: 1bpm
Accuracy: ±3 bpm (non-motion)
Alarm Range: 25 ~ 250 bmp
Refreshing Rate: 1 sec