Directory: Home | Healthcare | Sleep Monitors |
Baby Sleep Monitor CMS60C-WRP
Pricing Information
Retail Price: $299.99
AmperorDirect Price: $178.68 (40% savings!)
Shipping Included for USA customers (We ship internationally daily)
• Top Baby Sleep Monitor with Alarm and easy control settings. • Monitor your Baby's Vital Signs just like in a hospital. • Set an alarm for dangerous low blood oxygen levels. • Set an alarm for dangerous low pulse levels. • Capable of monitoring from another room with your computer in real time. • Technical help available.
Shipping Information
Shipping Weight: 2.00 pounds
Availability: Same day Monday to Friday
Shipping Cost: US Shipping included! Int'l Shipping calculated at checkout
In-stock items are normally shipped within 24-48 hours on business days. For special handling or overnight shipping, please call us at 281-664-1209.
Manufacturer Information
Manufacturer: Contec Medical Systems
Item Code: CMS60CW-WRP
Product belongs to these categories...
Product Updates by E-Mail
Fill the form below to keep updated on price changes, product specials, firmware updates, etc.
This product is no longer available.
Baby sleep monitor CMS60C-WRP monitors the baby's vital signs, pulse rate and blood oxygen level (SpO2) during sleeping. This baby breathing monitor tracks the newborn's breathing quality by screening the constant oxygen level in the blood or SpO2 and the continuous pulse rate. This vital signs monitor comes equipped with alarms that can be set for unhealthy low readings. If the SpO2 suddenly drops, it is an indication of breathing problems; if the heart rate drops or increases suddenly, it can be a sign of heart conditions. The data can be recorded and analyzed at a later time. Those episodes can be early warnings for future problems.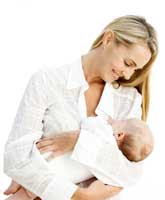 There are other types of baby monitors, a physiological baby sleep monitor has several key advantages over them.
Physiological infant sleep monitor measures the baby's body conditions directly, not some other factors such as movements.
Abnormal readings give indications of hypoxic episodes and bradycardia events. They can be early warnings of health risks. Parents should pay special attention if these episodes occur frequently.
Besides helping to prevent a health emergency, the data gives a good indication of the baby's overall health.
Monitoring is easy. After setting up the system, plug in the oximeter probe to CMS60C-WRP and attach the oximeter sensor to your baby's foot or palm of the hand. Turn the power on to start monitoring. The following diagrams show where you can attach the sensor to your baby.

The baby sleep monitor is used when the baby is sleeping. If the baby is moving around, the oximeter probe may fall off.
WARNING: This is not a toy and the monitoring must be performed under constant adult supervision. It is important that the infant must not be allowed to tangle up with the cable. This is especially true when the infant is capable of pulling things and can move his body around. Attach the probe to his feet; run the cable towards the end of the bed away from his body; secure the cable so that he cannot grab or tangle himself with the cable. See our CMS60CW Reference page for more details.
The wrap oximeter probe is for continuous or overnight monitoring. Besides infants, the wrap oximeter probe can be used by children and adults. CMS60C-WRP is a premium pulse oximeter loaded with features and is highly reliable and accurate.
Your Windows computer can retrieve and save data from CMS60C-WRP for further analysis. Data can be transferred to the computer in real-time mode or saved in the baby sleep monitor for later archive. When using an external probe, data must be saved before it can be transferred to the computer.
The multicolor display of CMS60C-WRP is clear and attractive and is one of the best on the market. CMS60C-WRP has 4 display modes so the readings can be viewed from all directions. This makes reading the screen easy for the caretaker or the patient. The audible alarm can be configured and switched on/off as desired depending on the environment. CMS60C-WRP has an internal memory capable of storing 24-hour worth of data, which can be saved to a PC. Reports, data analysis and archiving is also achieved with the SpO2 Assistant Software.
If you want to show the data to the baby's doctor, the computer can print a report showing a summary and detail data. Many doctors find the data helpful to diagnose the situation. No additional equipment is required.
Handheld pulse oximeter CMS 60CW comes with a rechargeable lithium battery. Each charge will last up to 24-hours of continuous operation. The lithium battery is rated for over 500 charge/recharge cycles.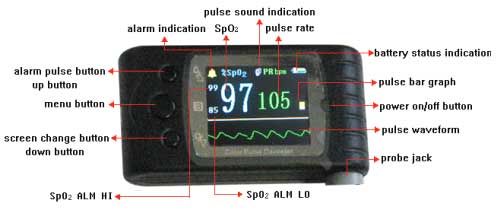 Sample computer screens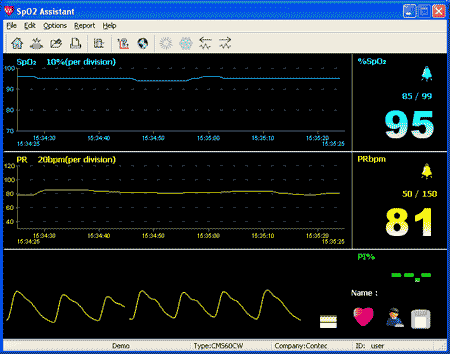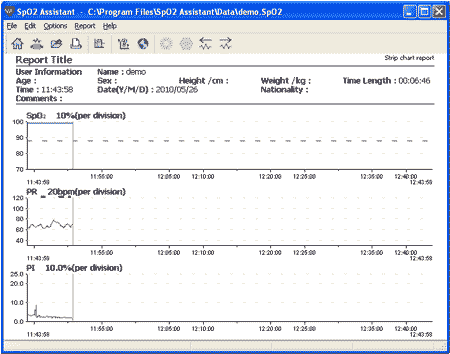 Features
Analysis software and USB cable included
Output: SpO2, pulse rate, pulse bar graph, pleth (pulse waveform)
Low battery indicator
Dual directional display
Three levels of adjustable brightness
Alarm with configurable thresholds
Pulse sound
Transmission of real-time data to computer
Optional external probes available
Specifications
Operating System: Windows
SpO2:

Accuracy: 70-100%: ±2%;
Range: 70-100%
Resolution: 1%

Pulse rate:

Accuracy: <100bpm: ±2; ≥100bpm: ±2%
Range: 30-250bpm
Resolution: 1bpm

Power: 3.7v rechargeable lithium battery with at least 500 charge/recharge cycles
Display: 1.8" 65K Color TFT display with 160*128 resolution
Dimensions: 87 x 45 x 22mm
Weight: ~175g