Ambulatory Holter ECG Recorder DiCare-m1C Reference
---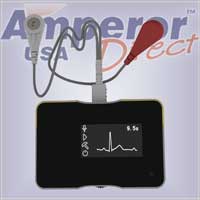 Product Related Documents
Tips
Software and Documents. All the software and manual are stored inside the SD card, which is located inside the battery compartment. Insert the SD card into the included USB adapter, insert the adapter in an USB port on your computer and copy the files in the SD card to your local drive. Install ECG Viewer from your local drive.
Save a copy of the software on your hard disk as the files in the SD card may be deleted accidentally.
Data Files. Data files inside DiCare m1C are saved in the SD card. Insert the SD card into your computer's SD card reader and copy the data files to your local hard drive. ECG Viewer can then open the files.
ECG Viewer would return an error when trying to read the data directly off the SD card. Copying the data first to the hard disk would circumvent this bug.