Choice Medical MD300C1 - Operation Instructions
---
Choice Medical MD300C1 Fingertip Pulse Oximeter - Operation Instructions
Operation Instructions
Installing two AAA batteries into battery cassette before closing its cover.
Open the clamp shown as in the picture below:
Put one of your fingers into rubber hole of the Oximeter (it is better to let your finger touch the bottom.) before releasing the clamp
Press the switch button for one time on front panel.
Do not rock your finger when starting test. Recommend you do not move your body at the same time.
Read correspondent data from display screen.
Declaration: Please use the medical alcohol to clean the rubber touching the finger inside of Oximeter, and clean the test sensor using alcohol before and after operation. (The rubber inside of the Oximeter is medical rubber, which has no toxin, and no harmful to the skin of human being).
When you put finger into the Oximeter, your nail surface must be upward.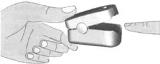 Brief Description of Front Panel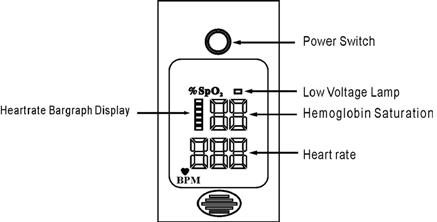 The length of the bar graph indicates the intensity of the pulse.
Product Accessories
One hang lace
Two batteries
One user manual