Welcome to AmperorDirect
Pulse Oximeters, Home ECG monitors, LED Drivers.
Some Important Information about COVID-19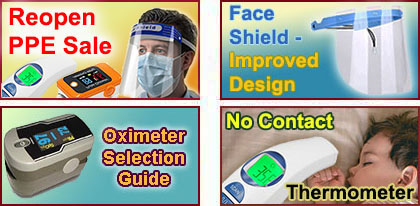 Finger Pulse Oximeters

Fingertip Pulse Oximeter is a portable non-invasive, spot-check, oxygen saturation of arterial haemoglobin (SpO2) and pulse rate of adult and pediatric patients at home, and hospital (including clinical use in internal medicine / surgery, anesthesia, intensive care and etc). Digital pulse oximeter is a good and economical tool for screening sleep apnea.
We carry a family of FDA approved pulse oximeters - from basic to premium models with alarms and multi-color displays. They are light (~30g without batteries) and provide accurate readings within a few seconds. The premium models display your plethysmograph, which shows the change in the volume of arterial blood with each pulse beat. It provides useful information on your heart condition.
Please read our Oxygen Saturation Monitor Selection Guide if you have questions in finding the most suitable one to use.
LED Drivers - for Signage and Lighting Applications

Whether you are looking for a replacement part or having a new design trying to use LED Drivers, you can surely find help at Amperordirect.com!
Our Knowledge Base
We have accumulated many useful information on the products and categories (Skype, Pulse Oximeter...) that we support. Visit our Resource Center and you may find answers to your questions.
Featured Articles
Organizations and Resellers
We offer group discounts and wholesale prices. Call us at 281.664.1209 / 281.664.1214.
We dropship products to your customers anywhere in the world.