Choice Reusable Pulse Oximeter Sensor M50 Reference
---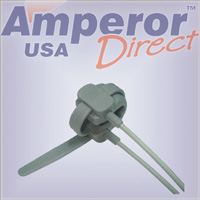 Instruction manual M-50 Pulse Oximeter Sensor Ver.1.2
Tips and Random Notes
Continuous monitoring of infant: This is not a toy and the monitoring must be performed under adult constant supervision. It is important that the infant must not be allow to tangle up with the probe. This is especially true when the infant is capable of pulling things and can move his body around. Attach the probe to his feet; run the cable towards the end of the bed away from his body; keep the cable out of the baby's view; secure the cable so that he cannot grab the cable or tangle himself.
One approach is to secure the cable onto the bed sheet using safety pins, cover the cable with another bedsheet leaving only a few inches for attaching the probe to the baby, and then tuck the ends of the both bed sheets tightly and firmly under the mattress.
Selection Guidelines
The following is some guidelines when selecting a probe that fits your need.
| Type | Comment |
| --- | --- |
| Pediatric finger clip | 22-110 lb (10-50 kg) patients on index finger |
| Silicone warp | 2-9 lb (1-4 kg) patients on lateral side of foot, 7-11 lb (3-5 kg) patients on big toe, >22 lb (10kg) patients on big toe or big thumb |
| Ear | >90 lb (40 kg) patients on ear |
| Adult silicone | >90 lb (40 kg) patients on index finger |
| Adult clip | >90 lb (40 kg) patients on index finger |
For more information on pulse oximeter, visit our Pulse Oximeter Resource Center.